Twinkle Sharma Murder: Sonam Kapoor, Kareena Kapoor, Swara Bhasker, and others slammed by Twitterati for not raising voice
Twitterati has called a few celebs 'placard gang' who are silent in this murder case.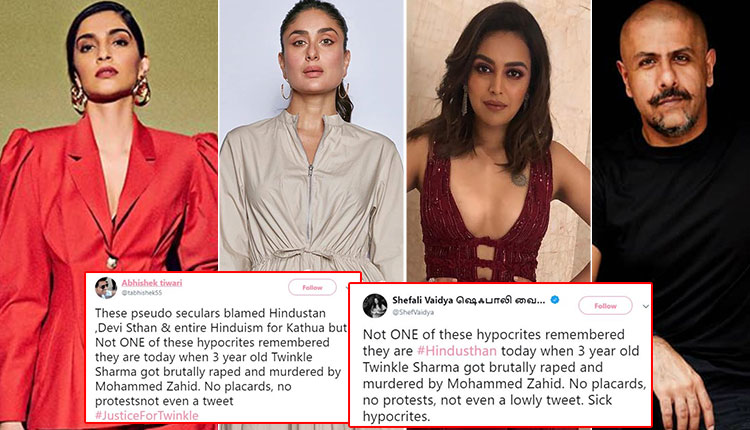 While everyone was celebrating Eid on June 5, one family was mourning the death of a two-and-a-half-year-old girl. She is Twinkle Sharma of Uttar Pradesh's Aligarh who was heinously murdered and the body was mutilated. The minor was killed over an argument between the accused and the family regarding a loan. The name of the accused is Zahid.
We always look up to our Bollywood celebs who raise their opinions on social issues as many have earlier took a stand and talked on the miscreants that happen in the society-be it murder or rape case or any other social matter. But to our surprise, we can't see these celebs tweeting about the murder of this innocent child.
Today when you open your Twitter handle, you will see Twinkle Sharma trending; the reason being Twitterati is slamming stars like Sonam Kapoor, Swara Bhasker, Gul Panag, Vishal Dadlani and Huma Qureshi among others for not voicing against the murder. Calling them 'placard gang', one user has said why they are silent.
Here are the tweets below.
3 Year old Twinkle sharma raped killed by Mohammad Zahid and Mohammad Aslam in Ramadan

Listen the pain of her Bua

Why complete silence by
* Sonam Kapoor
* Swara Bhaskar
* Kareena Khan
* Vishal Dadlani
* Huma Qureshi
and the whole Placard Gang ?#JusticeForTwinkle pic.twitter.com/kYHfFvUeYt

— Khushi Singh (@khushi2318) June 6, 2019
Please wake up Swara Bhaskar and other #hypocrites & #Pseudoseculars… why are they mum on Twinkle Sharma rape and murder case… They had guts to voice their outrage in Kathua rape case… Y not now?…. Stop showing ur double standards over such a heinous crime!!! SHAME!!!! pic.twitter.com/pdfCM0r6DD

— Harshitha Raghuram (@HarshithaRaghu4) June 6, 2019
Sickulars RIP !
Twinkle Sharma,3 Yr old girl abducted,raped & brutally murdered by Zahid in Aligarh.
No placards/candle light/condemnation from Tukde Gang, paid celebrities,& dalal Patrakars ?
Hw Twinkle's rape & murder is different from Asifa of Kathua ?
Rapist MUST be Hanged ! pic.twitter.com/eqOz1mYg2P

— Major Surendra Poonia (@MajorPoonia) June 6, 2019
You all will pay sometime, somewhere, in some ways for your intellect that that shows anger, sympathy on the basis of religion of victim and culprit. You may not see the wounds of #TwinkleSharma but God is watching you. My doll, Twinkle Sharma, we are ashamed of our society. pic.twitter.com/rMN4hG5hKl

— Anshuman (@rare1anshuman) June 6, 2019
They are not ashamed now

Twinkle Sharma pic.twitter.com/kN6KEDvRJh

— indian?? ?? (@sreesnthfan) June 6, 2019
While actress like Raveena Tandon, Sunny Leone and Koena Mitra has tweeted condemning the death of the child.
Here are their tweets.
The horrible, barbaric rape,murder of a 3 year old In Aligarh,the criminals,who gouged her eyes, mutilated her body,depraved evil,inhuman & barbaric. Must Hang. The law must act fast! #justicefortwinkle @smritiirani #twinklesharma

— Raveena Tandon (@TandonRaveena) June 6, 2019
Im sorry Twinkle that you had to you live in a world where Humans no longer understand Humanity!!!! May God look over you for Eternity as you are an Angel !!!! #ImSorry

— Sunny Leone (@SunnyLeone) June 6, 2019
Hindus have the responsibility to remain secular I guess, hence no outrage for you.
I am Hindustan.
A proud Hindu.
I'm not liberal enough to support your Rapists.
I'm no secular from today. With you and yours…. #TwinkleSharma #Aligarh #Mohammedjahid pic.twitter.com/W58PlUVy8o

— Koena Mitra (@koenamitra) June 6, 2019
Talking about Twinkle, Aligarh police found her body from a dumping ground, three days after she went missing from her house. Zahid killed her with and hid the body in his house in a straw bag. When the body started stinking, he trashed it and later buried in the dumping ground.