Twitterati Trend Boycott Amazon For Hurting Religious Sentiments-View
E-commerce Giant, Amazon Gets Trolled For Hurting Religious Sentiments. Netizens Trend Boycott Amazon On Twitter Today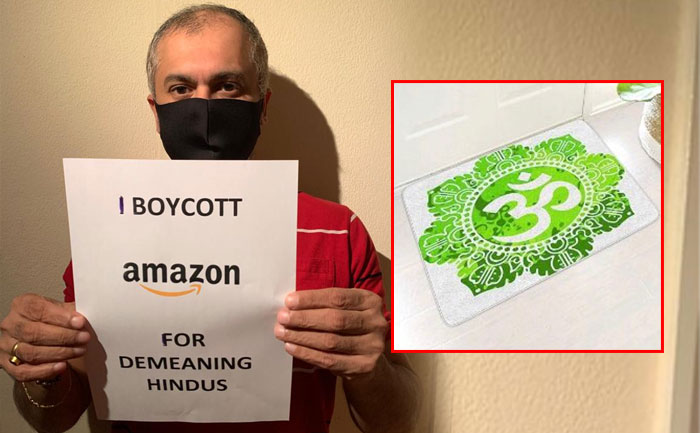 Most recently, it was the jewellery brand, Tanishq to have got slammed by netizens for hurting religious sentiments. Now, Twitterati slam Amazon and demand a ban after few users saw that one of the seller on this E-commerce giant has been selling 'Om' printed doormats and undergarments with Hindu gods face prints on it. Netizens showed an outrage on social media.
A section of society has expressed their displeasure over Amazon and its sellers for hurting the Hindu sentiments. While on the other side, people have also highlighted products that demean India gods. Here, check out few of tweet posts, as netizens lambasts Amazon.
#BoycottAmazon for Demeaning HINDUISM! pic.twitter.com/6J3DIzvZPY

— Tannu Priya |serve Justice to our brother | (@TannuPriyah) November 10, 2020
#BoycottAmazon
This is shame for every INDIAN
Lets show Amazon our power
Use our Flipkart
Ban Amazon @narendramodi take a front step on this issue @ssrajamouli @shankarshanmugh @urstrulyMahesh @ntr @TheDeverakonda
We need support of telugu film industry pic.twitter.com/ARvxzddGcm

— RAJA PAVAN (@RAJAPAVAN20) November 10, 2020
Why every time hindus?? #BoycottAmazon pic.twitter.com/TQI4RNW40s

— Karan_universal (@KarwasraKaran) November 10, 2020
Until they sell a doormat with "cross" or with "Crescent & Star"

We will not take this bullshit by any of the brand/organisation which tries to defame "Sanatan dharm" through their platform#BoycottAmazon pic.twitter.com/1HWNFpnQve

— 🚩Abhishek Takale🚩 (@takale_abhishek) November 10, 2020
Well done Amazon !! Bass tumhari kami thi.. Plz listen here.. never gonna buy a single product from your site from now on !! #BoycottAmazon pic.twitter.com/nJopfZIq24

— iAnu❤️ Kattar Anshulian😎 (@PakaaMatt) November 10, 2020
#BoycottAmazon ?
This is allowed This is not pic.twitter.com/vsPrIMS9c6

— Aryan (@thebatmanintown) November 10, 2020
For all the latest news and gossips, stay hooked on to The Live Mirror.
Also Read: Amazon Great Indian Festival Sale 2020: Starting Date To End Date-Everything You Need To Know