UFO spotted near PM Modi's house sends the internet in a tizzy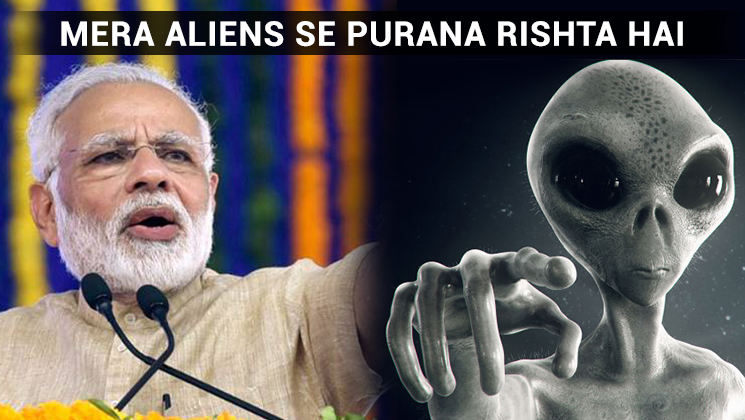 A few days back the combined security forces in Delhi went in to a tizzy. Reason – an Unidentified Flying Object (UFO) allegedly seen hovering around Prime Minister Narendra Modi's official residence.
According to reports, the UFO was sighted at about 7:30 pm at Lok Kalyan Marg, Delhi. The 2-km radius area around the PM's house is a no-fly zone.
Immediately after the UFO was spotted, Special Protection Group officials posted on guard called the police.
The National Security Guard, Central Industrial Security Force (CISF), Delhi Airport authorities and Delhi Air Traffic Control also immediately sprang into action.
But the UFO was already out of sight. As the news of UFO sightings spread, Twitter users started speculating theories and some were outright hilarious.
Check out some of the most hilarious tweets on the UFO sighting.
What next? Zombies?! #MentalFitnessChallenge https://t.co/K9FHNMtCfM

— இசை S D (@isai_) June 14, 2018
UFO Spotted Near PM Modi's Residence. And If you check for its controlling apparatus I am damned sure that it will be with Modi only.#ModControlUFO#DramebaazModihttps://t.co/mObme0YK7N

— अलोक कुमार वर्मा ?? (@IamAlok_INC) June 14, 2018
Now that UFOs have been spotted, I sincerely request parda-clad women, nuns, etc to stay away from the vicinity of the PM's residence, or they'll claim spotting Grim Reaper as well. And that comes at the risk of Arnab Goswami debating it at 130 decibels…https://t.co/YFrQTp4EZW

— Sanjiv Bhatt (IPS) (@sanjivbhatt) June 14, 2018
UFOs Spotted Near PMs residence!

Modi: Mitron, Aliens are trying to assassinate me. Please vote for me in 2019! ?https://t.co/3exACArsAC

— Keerthi? (@TheDesiEdge) June 14, 2018
OMG
UFO near modi's residence.
May be aliens want to invite for some day visit to their planet for #Demonetization and #GST
Or
Election rally.
Alien aur Alieno
Mera is planet se purana nata hai.
Mai yaha paida hone wala tha par nehru ne space ship nahi choda.#BJP_भगाओ_देश_बचाओ https://t.co/TuJZaEWnSp

— Gaurav Mate INC (@GauravMate07) June 14, 2018
They must have come to invite him to the one place hes not been till nowhttps://t.co/TNLj7UyOmk https://t.co/X62QUof7uN

— Dipali Sikand (@SikandDipali) June 14, 2018
Oh My God-se the assassination plot was from other planet.. a UFO spotted near PM Modi's Residence. ????#PMInCGVikasYatra pic.twitter.com/hhNxXYZQXi

— Asif Karjikar (@asif_karjikar) June 14, 2018
Did Maosits and urban naxals summoned aliens to eliminate PM Modi? Fire your views https://t.co/ji5V6lTugl

— Ravi Nair (@t_d_h_nair) June 14, 2018