10 Unexplored Places In India To Visit Once In A Life Time
Check Out The List Of 10 Unexplored Places In India To Visit Once In A Life Time And You Won't Regret Visiting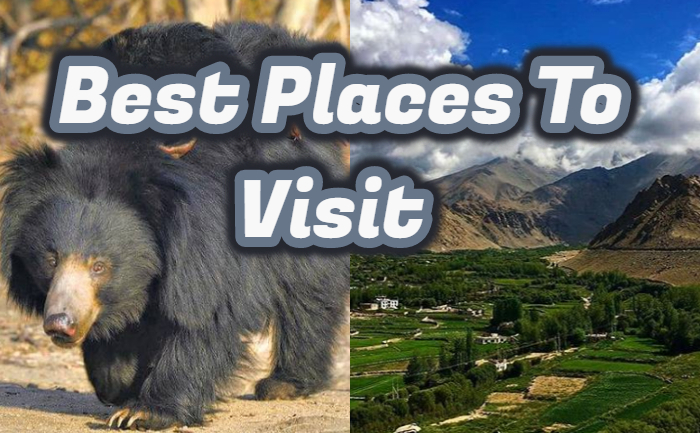 Talk about visiting several parts of India places such as Delhi, Mumbai, Jaipur, Kashmir and other places pops into our heads. India is one of the hidden treasures when it comes to some amazing places to visit and explore the other dimension of life far away from high-tech areas. There are quite a few unexplored places, that one must visit once in a life time to witness the beauty mother nature and historic monuments.
Unexplored Places To Visit In India Once In Lifetime
1. Velas, Maharashtra
Velas is a small beautiful village based at the Konkan coast of Maharashtra. The place is quite famous for its Turtle Festival and Village lifestyle's. One of the primary purpose for everyone visiting Velas is to attend the Turtle festival, although it happens only 2-3 times in February, March depending on when turtles are expected to hatch. The volunteers check every morning and evening from October through March if any eggs have hatched. The village is at a distance of 170 kilometres from Pune and 205 kilometres from Mumbai.
2. Daroji Sloth Bear Sanctuary, Karnataka
Daroji Sloth Bear Sanctuary is considered as an abode of the Indian Sloth Bears. The Sanctuary is located in Karnataka, just 20 kms away from the gorgeous ruins of Hampi. The open scrub forests, undulated hillocks, fallen boulders and sheltering caves of the sanctuary, spread over 83 square feet, are home to a large population of these honey-lovers, endemic to India.
3. Chembra Lake, Western Ghats
Chembra Peak is a mountain peak in Western Ghats of Wayanad district, which is located at an elevation of 2100 m above sea level. Chembra is the highest peak in Wayanad and the third highest peak in South India. This is one of the top places of trekking in Wayanad and also one of the best tourist places in Kerala. It is another popular attraction not to miss in a Wayanad Tour Packages.
4.  Ziro, Arunachal Pradesh
Ziro Valley is an entrancing holiday destination in North East India, which mesmerises everyone with its hypnotic natural charm peppered with sprawling rice fields, its villages and green hills filled with the layers of floral. The place is great for adventure seekers, whether one is looking forward to a soul-captivating trekking experience or natures beauty, its the perfect place to visit.
5. Mawsynram, Meghalaya
The place is hailed as the wettest place on earth, Mawsynram is a mesmerising village in the Meghalaya. Its is located in the Khasi Hills and it is Mawsynram famous for its rains. The green village is surrounded by hills and floating clouds overhead are a daily sight.
6. Majuli, Assam
Assam is truly state with paradise on earth. Its verdant forests, intriguing customs attract people from all across the country. It is home to the one-horned rhino, the gushing Brahmaputra, sprawling emerald green tea estates and mesmerising landscapes. Apart from these, it also has the world's largest river island – Majuli. A trip to this island is a definite must-do when you plan your holiday to Assam.
7. Tawang, Arunachal Pradesh
The small town of Tawang is located amidst the eastern Himalayan ranges. The place is quite famous for its 400-year-old monastery. The monastery is one of the biggest Buddhist monasteries, which is found in India and is an important pilgrim centre for the followers of Buddhism.
8. Champaner, Gujarat
Champaner-Pavagadh is an archaeological park. Champaner-Pavagadh heritage site is spread over an area of more than 1,329 hectares. The Champaner Pavagadh Archaeological Park is the first monument in Gujarat to be inscribed with the UNESCO World Heritage status. These monuments, whose construction period goes way back to the 8th century attained this status in 2004.
9. Kurnool, Andhra Pradesh
Kurnool is the 5th largest city of Andhra Pradesh, a place of much historical value with beautiful surrounding areas. It is a small town in Andhra Pradesh where much of history left its imprints and made it an one of the most attractive places. The city also is known as The Gateway of Rayalaseema. Places to visit in Kurnool is Yaganti, Belum Caves, Konda Reddy Fort and few others.
10. Hemis, Leh
Hemis Monastery is a Himalayan Buddhist monastery (gompa) of the Drukpa Lineage, in Hemis. Situated 45 km from Leh, the monastery was re-established in the year 1672 by the Ladakhi king Sengge Namgyal. Hemis Monastery is hailed as the biggest monastic institution in Ladakh. Quite an ancient one, it is supposed to have existed from before the 11th century.
For more such interesting updates, stay hooked on to The Live Mirrror.
Also Read: Places To Visit In Maharashtra Once The Lockdown Ends