United States: Hurricane Hanna Roars Ashore In Coronavirus-Hit Texas
2020's First Hurricane Hanna Roars Ashore In Coronavirus-Hit Texas In US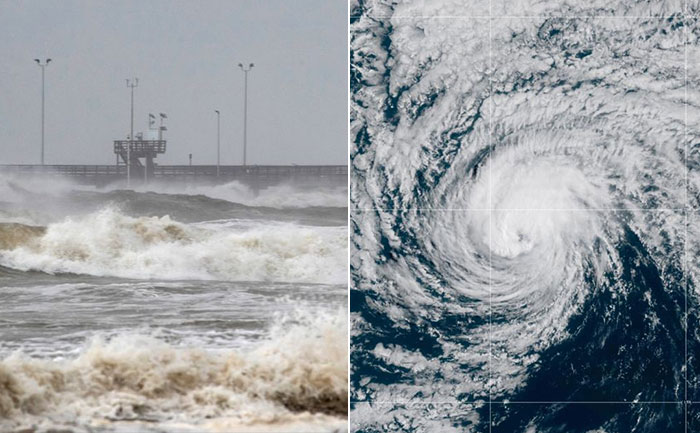 Hurricane Hanna, the first Atlantic hurricane of 2020, slammed into the coast of Texas on Saturday. The Category 1 storm lashed the shoreline of the coronavirus hit state with rain and storm surge. The storm packed winds of around 90 miles (145 kilometers) per hour as it came ashore at Padre Island at 5 pm.
The first hurricane of 2020 made landfall twice on Saturday afternoon within the span of a little over an hour. The first landfall happened at around 5 pm about 15 miles (24 kilometers) north of Port Mansfield. The second landfall took place at around 6:15 pm in eastern Kenedy County, about 15 miles (24 km) north-northwest of Port Mansfield.
It's the dolphin in the parking lot for me. Lol #HurricaneHanna pic.twitter.com/opCbNH546U

— B🦋 (@BeccaIslene) July 26, 2020
Meteorologists said, "Hanna is expected to produce heavy rains across portions of southern Texas and northeastern Mexico. These rains will result in life-threatening flash flooding. Life-threatening storm surge will continue along portions of the Texas coast."
Hanna could drop 18 inches of rain through Monday in south Texas and the Mexican states of Coahuila, Nuevo Leon, and northern Tamaulipas.
Aerial view of the damage to Bob Hall Pier just a little earlier. The end portion has been ripped away along with other obvious damage. #HurricaneHanna #txwx #Hanna pic.twitter.com/QrBRailxGV

— Brian Emfinger (@brianemfinger) July 26, 2020
Two other storm systems were churning Saturday: Pacific Hurricane Douglas, bearing down on the Hawaiian islands, and Tropical Storm Gonzalo in the Atlantic, near the Windward Islands.
Also Read: Typhoon Vongfong Strikes Philippines: Tens Of Thousands Under COVID-19 Lockdown Evacuate