US-based fan names a star after Sushant Singh Rajput
'Shine Brightest': Sushant Singh Rajput's Name Registered As A Star By US-based Fan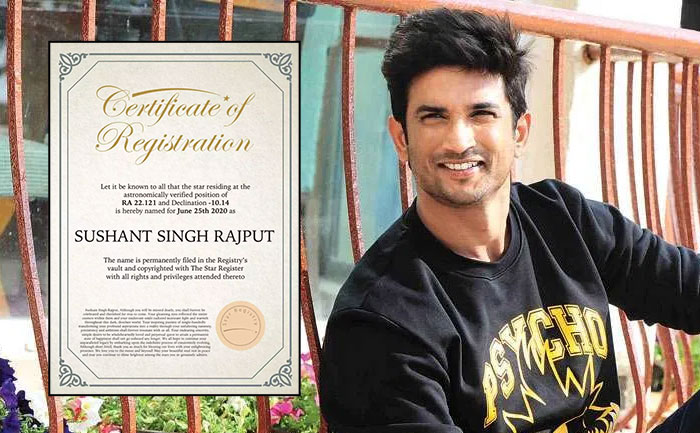 Sushant Singh Rajput's early demise has left his fans in a state of shock. They continue to mourn the loss of their star through social media by paying their tributes to the departed soul. A fan from the United States took to her Twitter page and revealed that she has named a star after the late actor. The actor's fascination with celestial bodies is now immortalized.
A Twitter account by the name Raksha shared information on the registration of a star. She also shared pictures of the certificate and the astronomical positions of the entity. The certificate reads, "Let it be known to all that the star residing at the astronomically verified position of RA 22.121 and Declination -10.14 is hereby named for June 25th 2020 as Sushant Singh Rajput. The name is permanently filed in the Registry's vault and copyrighted with The Star Register with all rights and privileges attended thereto"
sushant had always been so fond of the stars & thus i found it quite fitting to name one after him. 💫 i shall forever be blessed to have witnessed such a beautiful & profound soul. may you continue to shine brightest! 💛@itsSSR#sushantsinghrajput #sushantinourheartsforever pic.twitter.com/c92u9yz1Sg

— raksha ♡ (@xAngelWingz) June 29, 2020
despite being so late in appreciating his value, sushant has positively impacted my life in innumberable ways. he was an absolute gem; far too pure & precious for this dark world. i definitely would have loved to see you excitedly locate your star through that telescope of yours! pic.twitter.com/YL5he7OnIE

— raksha ♡ (@xAngelWingz) June 29, 2020
Sushant Singh Rajput had committed suicide on June 14 at his Bandra apartment.
Also Read: Dil Bechara: New Poster of Sushant Singh Rajput's Last Film Out