Uttar Pradesh: 'Gau Rakshaks' beat up two men for transporting cows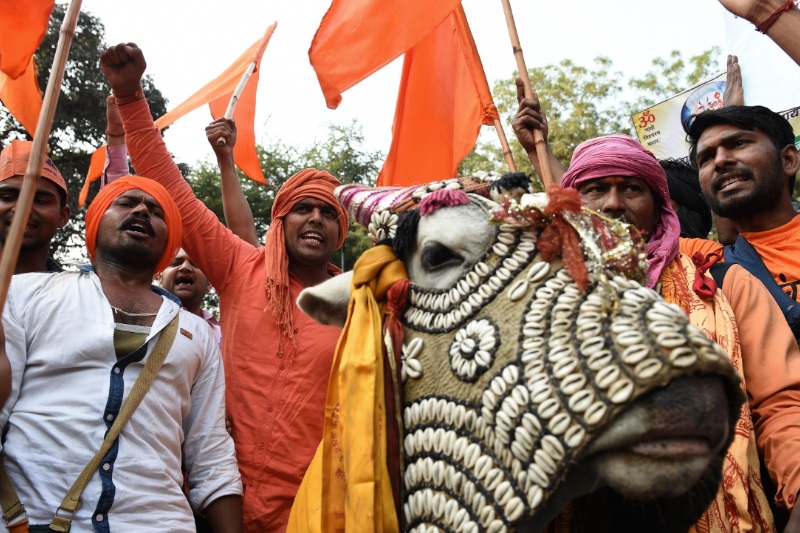 Uttar Pradesh's Shamli district saw an instance of mob lynching over the supposed cow vigilantism. On August 20, activists of a 'gau raksha dal' beat up two people whom they suspected of transporting cows for slaughter before handing them over to police, police said.
Shamli's superintendent of police Dinesh Singh said: "We have arrested two people who were transporting cows on the complaint of the 'gau raksha dal'."
He added that necessary action would also be initiated against the vigilantes for taking law into their hands by thrashing the accused before bringing them to the Adarsh Mandi police station. The accused have been identified as Shamshaad and Shahzad.
"Anuj Bansal has been identified as the leader of the 'gau raksha dal'. Investigation is underway to identify his aides," Singh stated.
According to a report in the Hindustan Times, the 'gau rakshaks' spotted a vehicle carrying cows in Adarsh Mandi and stopped it. "While two of the four people in it ran away, the other two were nabbed and allegedly beaten with leather belts in full public view," they said.
Two men were beaten up with belts & sticks by Gau Raksha Seva Dal workers in Shamli yesterday on suspicion of them being cow smugglers. Police took the two men into custody for interrogation. Investigation underway pic.twitter.com/XO5q11NrOv

— ANI UP (@ANINewsUP) August 21, 2018
In Hyderabad, police have taken into preventive custody BJP MLA Raja Singh from his residence today. The MLA was planning to protest in front of Police Commissioner's office demanding the release of 'gau rakshaks' from police custody.
Hyderabad: Police have taken into preventive custody BJP MLA Raja Singh from his residence today. The MLA was planning to protest in front of Police Commissioner's office demanding the release of 'gau rakshaks' from police custody pic.twitter.com/781i75sfkk

— ANI (@ANI) August 21, 2018
Also Read: Lynching accused brags on camera, says will repeat it again