Varun Dhawan's Rap On 21-Day Lockdown Featuring PM Modi Goes Viral
Varun Dhawan Turns Rapper in New Coronavirus Song-Watch The Viral Video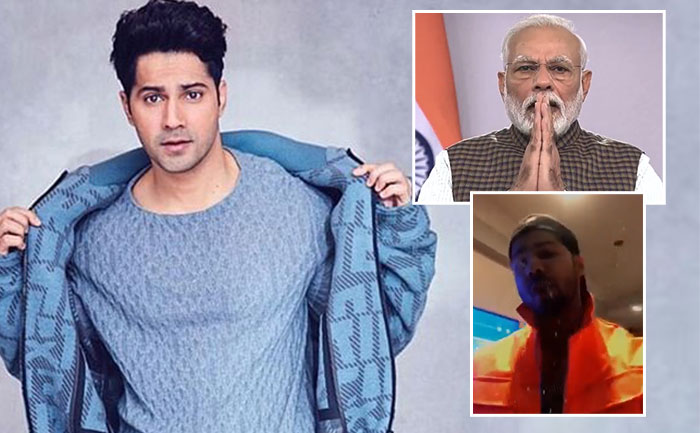 A few days back PM Narendra Modi had announced a 21-day lockdown to stop the spread of the novel coronavirus in the country. During this period of quarantine, our Bollywood celebs are trying their skills and doing the day-to-day activities of their own. Varun Dhawan has turned rapper and shown his fans this hidden talent of him.
Varun Dhawan composed a rap on lockdown and sharing the video on his Instagram handle, he captioned it, "#LOCKDOWN #vararaps. Stay indoors stay safe. Thank you @tanishk_bagchi. @ericpillai @dipraj_jadhav_edits @go_addy."
The video starts with an excerpt from PM Modi's address to the nation in which he announced the 21-day lockdown. Varun is saying in the video, "You can't go to the parlour, you can't go to the streets, you can't go to the sabzi mandi." Towards the end, he says, "Janta Curfew rocks". In the video, we see a few pictures of Mumbai during the lockdown and a few movie clips from his movies and of Shah Rukh Khan and Aishwarya Rai Bachchan starrer 'Devdas'.
Watch the video here.
Interesting, isn't it?
Bollywood celebs are making the best use of their time during the lockdown and we are amused to see their talent. A few days back, Kartik Aaryan too turned rapper and urged people to practise social distancing.
Meanwhile, the cases of Coronavirus are rising in the country and it should be our responsibility to stay at home and maintain social distancing. This is the only way out right now to fight with the deadly virus.
Also Read: Shah Rukh Khan & Alia Bhatt To Come Together For Siddharth Anand's Film?