Captain Virat Kohli calls for an end to comparisons surrounding Prithvi Shaw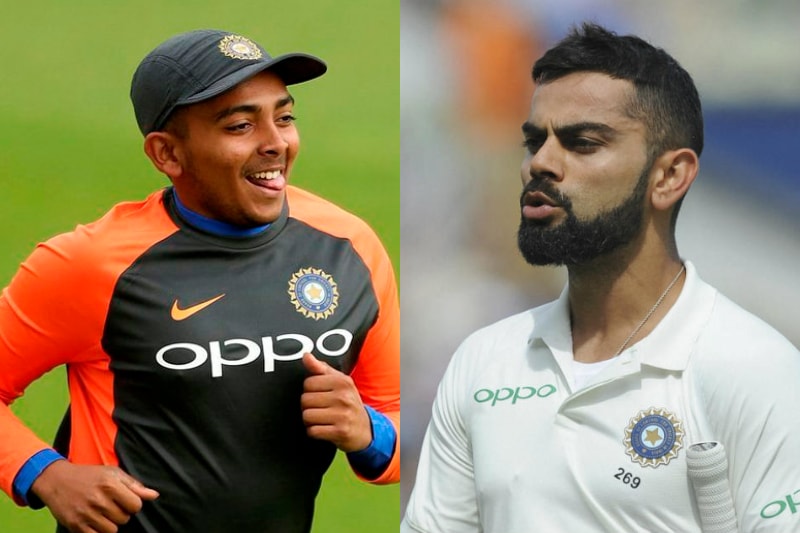 Indian captain Virat Kohli on Thursday called for an end to all comparisons that the young Prithvi Shaw has drawn after he put up a sparkling show in his debut Test match–cracking a spectacular hundred to set the tone for the rest of the innings.
Shaw's 134-run knock which comprised of 154 balls made him the youngest Indian ever to score a Test hundred and this was immediately followed by comparison wherein the prodigy was compared to the likes of Virender Sehwag and Sachin Tendulkar.
While answering questions on the young Mumbai batsman on the eve of the second Test match against the West Indies, Kohli said, "I don't think he should be rushed into anything yet because you need to give a youngster a space to grow, in his own abilities. This guy is supremely talented and he has got great ability as everyone saw
Also Read: Prithvi Shaw shouldn't be compared with Virender Sehwag, says Gautam Gambhir
"We definitely think he (Shaw) has it in him to play at the highest level and he can repeat what he did in the first game. He is a very keen learner, a sharp guy. He understands situations well. We are all very happy for him," he said.
Kohli's words were similar to what out-of-favour Indian opener Gautam Gambhir said when he was answering the same questions a day ago.
That the youngsters nowadays can handle pressure in a much better fashion due to tournaments like the A-tours, the Indian Premier League and the extensive coverage of the U-19 tournaments is a fact that Kohli acknowledges as he said, "Definitely it could be one of the reasons (early exposure) because they are already exposed to the environment that the international game would replicate. But there's always pressure of playing for the country.
"When you get that cap in the morning of the game, there's always butterflies in the stomach and I am sure everyone feels that pressure.
"But I am sure it is not as intense as 10-15 years back when you didn't have any exposure in this kind of cricket and suddenly you are put out there in a Test match making your debut for India – the highest or toughest thing there could be," he added.
Also Read: India vs West Indies: Virat Kohli could equal Inzamam-ul Haq in centuries