Weekly Horoscope December 01-07: Check astrological predictions for all Sun Signs
Get most accurate astrological predictions and weekly horoscope for all 12 zodiac signs for December 01-07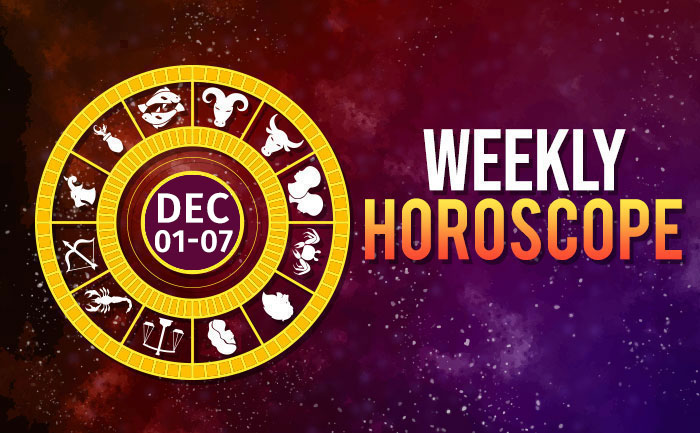 Planets have a big influence on our life. They affect each individual in a different manner as per their Sun Sign. Sometimes they have a positive influence and sometimes it is not so. You must be wondering how this first week of September plays out for you? Do not feel jittery read our weekly horoscope. Follow it, and relax.
Here is your weekly horoscope as per your Zodiac Sign:
Aries:
Your confidence may be somewhat shaken up and you aren't feeling quite like yourself.  Issues may arise in your career, romantic and personal life so don't be afraid to face these head-ons. Misunderstandings and conflicts may create an atmosphere at home. Try to keep calm and collected, especially around your loved ones. If you put in the effort, you will be very successful this week.
You will have the opportunity to talk people into your way of doing business. Unemployed women will find their calling in creative arts. Software engineers looking for a job should not look at changing their field yet. Your romantic life is likely to positively sizzle this week.  A newly found love will bring freshness and excitement to the lives of singles.
Elderly people who suffer from joint aches will see improvements. Teenagers, don`t start dieting now; just eat well and work out in order to burn off your energy.
Taurus:
Relationships are where a great number of our inner 'stuff' can show up.  If your pain is triggered, by your relationship, understand that this is an area where you must do the inner work You are stubborn and can get set in your ways. Choose your battles wisely or you will always lose the war.
This week a career counselor will give you a great piece of advice. This guides you in the right direction and you make some smart career moves. Some of you will be very happy with the way things progress this week.  A promising week lies ahead of you on the romantic front. Single parents, in particular, are likely to have a very romantic week. This is a very favourable period and you will take all your personal relationships rather seriously.
Your health may not be so good this week. Some of you are likely to fall sick or may complain of some body aches.  Be careful about what you eat and make sure you get some exercise. Stomach related ailments are indicated for those of you who tend to overeat.
Gemini:
Your brain is so active that you would never be content to sit at home idle. The idea of having a purpose or working towards the competition of a project appeals to your busy nature.  Your personal life may be turbulent and churning like wild water. You may feel depressed as a result. Plans may not go quite as you expected.
This week, the chances of falling in love with a colleague are very high, if you are single.  Parents of single people will be able to find a suitable match for your child after quite an extensive search. This week, media professionals are likely to get some challenging assignments at work. These challenges bring out the best in you.  Make sure you meet all your deadlines.
This is a good week for you on the health front. You feel much better than you have in a while. Teenagers concerned about weight-related issues would benefit from a diet recommended by a nutritionist.
Cancer:
You aren't one to seek recognition. The thought of it makes you feel rather shy. But this week, you will be recognized for your efforts and contribution. You may be in a cycle of change where you would like to try your hand at a different job.  This is a time of growth for you so spread your wings and fly – or leave your shell and swim!
This week everyone at work will appreciate the pace at which you get your work done.  If you get a very good job offer from abroad do accept it by all means as it could change your life forever. Your romantic life is likely to sizzle this week. You are feeling very passionate about the one you love.  This is a good time for rekindling love in your life. A newly found love will bring freshness and excitement in your life, which has been dull of late.
This week you will be energetic and on your toes. But this period may be a bit critical on your leg joints and therefore,  be cautious. This period is also not very favorable for water activities.
Leo:
Your ability to innovate is very strong. You are an excellent delegator and you may invite others to finish what you've envisioned. Your mood is calm and stable which also encourages your relationships to be harmonious and peaceful. Financially,  you may spend more than you have.
Your romantic life is likely to be revived this week. You feel very passionate about the one you love. A wonderful surprise is highly indicated.  This week will be a smooth sailing one on the work front. You will use this time to your advantage and get all your work done on time.  However, you need to be a little more careful while dealing with your seniors and colleagues.
Steer clear of unhealthy food as you are indicated to fall prey to the temptation of binging. There is a high probability that you may end up with a major health ailment this week because of your tendency to overeat. It would be advisable to restrict yourself to a few drinks; best would be to avoid them completely.
Virgo:
You'll see financial gain especially if you dabble in the property market. Profit will be seen. This is a wonderful phase for students – your brains will soak up information like a sponge and you will perform well in tests. In general, this is a great time to pursue education and in one way or another. This is a wonderful week professionally too.
Your single-minded approach to work will be met with success sooner than you think.  This period will be excellent for those of you who are in the field of publishing and creative writing as you get a lot of new employment opportunities being offered to you. This week you will not hesitate to express your feelings for someone you are in love with. Candlelight dinners will help you make the most of this romantic week.
Meditating during this week will keep your mind focused and also bring clarity in the thought process. Try keeping negative thoughts away from you by focusing on the positive aspects of life.
Libra:
Financially you'll do very well this week, but you do need to be cautious of your tongue and tone of voice.  It's crucial that you avoid conflict especially at work Overthinking may be an issue try meditation. Resolving problems gives you mental peace. While making your decision though, do not dilly-dally so much because you then use up so much of your emotion.
You are likely to be chosen as a representative by your seniors for some very important projects overseas.  Your inputs and suggestions will be appreciated by almost everyone. Singles looking for love may need to continue their search, as you are not likely to meet someone who meets your standards.  Divorced couples are likely to have a good time with someone they recently met.
You can avoid these health problems by avoiding negative feelings like anger and depression.  Your week will be much better once you develop a positive attitude towards life.
Scorpio:
You're working fast and getting things done very efficiently.  This is a great time to work on the expansion. There may be some obstacles, but your power of innovation will bring you success and plenty of reasons to celebrate.  You are blessed with the intuition of understanding the root cause of a person's emotion. This is one of the reasons you are a great friend to have as you understand pain and darkness and can 'feel' the sorrow of the others.
A new job is on the cards this week.  Teamwork will help you achieve much better results.  Many of you are starting a business, a new course of study. If you are in a committed relationship, there's a likelihood that you may find yourself in a dilemma as an old flame returns to your life.  Your current relationship may undergo strain as a result.
This week, you need to do your best to avoid overeating or else you may have to deal with weight-related problems.  A good diet is a must to stay healthy all through the week.
Sagittarius:
You have such faith in others, in the world and your ideologies. Sometimes you need to remember to return some of this generosity and optimism to yourself. You are naturally positive and hopeful.   You have a great light in you that can never be extinguished. This is a wonderful time for diving deeper into your relationships.
This week you will be kept very busy as you are entrusted with some challenging assignments.  You are at your creative best and impress others with your unique designs. Some of you are likely to get a promotion after a long time this week. This week there are chances that you may fall in love with someone at your workplace. However, it is very likely that if you go ahead with this relationship you may remain unsatisfied.
This week's stress could also lead to blood pressure problems for some of you.  Self-medication should be avoided as it could even aggravate your problems. In fact, this week is a very good time to get a complete health check-up done.
Capricorn:
Your big monetary gains this week will be from the property. Your confidence is high and you need a purpose, something to work on. This keeps you healthy and happy. You are in the mood for a challenge and prepared to conquer whatever comes your way. Luck is on this week – embrace it.
Your romantic prospects look bright this week. Many opportunities for meeting someone impressive and charming are indicated during this period. Make the most of this good time to ask this person out on a date.  Businesspeople will do well by not entering into any partnerships this week. Those of you who have been waiting to try a new career path will find this week to be a good time to do so.
Those of you who frequently complain of joint aches may face some problem even though it will be minor in nature. Take extra care of your body and follow your dietary restrictions very carefully. Make sure you eat right and take proper care of yourself to avoid these problems.
Aquarius:
This is a favourable period for you where all seems to be basked in a glowing light. You are appreciated by all around you. This is a very lucky time and you are interested and you are learning that true happiness comes from within. This is a wonderful time to try something new. You have the confidence to go for it. Trust your instincts.
Your romantic prospects look bright this week.  Teenagers should avoid getting into a relationship now, as what they consider as love may well be just an infatuation.  Your organization may be sending you overseas for a new business or a new project. Take advantage of this opportunity and prove yourself as you have worked hard for it.
Take extra care of your body and follow your dietary restrictions very carefully. Try doing things that you like such as reading a good book, chatting with an old friend or simply getting out of the house
Pisces:
Some might call you dreamy as you believe in romance, connection, warmth and you bring a sense of coziness that makes others feel safe and valued. Intimacy is your lifeblood. You'll learn with time and experience how to be more aware of the intentions of others.  You live in a larger than life way as if bringing dreams into the realm of reality.
Some of you could ponder over the direction your love life is taking. Unattached singles would meet someone special this week and fall in love  Today, you might find it difficult to change your job if you had hoped to do so at this time.  At the same time, it would be in your interest to consider all the pros and cons before making such a move.
Keeping a positive outlook towards life will give your body a much-needed tonic.  In the long run, this will enable you to enjoy a bloom in your health and you will soon notice that your approach towards life has changed for the better.
Also Read: Perfect Pet For You, Based On Your Zodiac Sign