Weekly Horoscope October 27-02: Check astrological predictions for all Sun Signs
Get most accurate astrological predictions and weekly horoscope for all 12 zodiac signs for October 27-02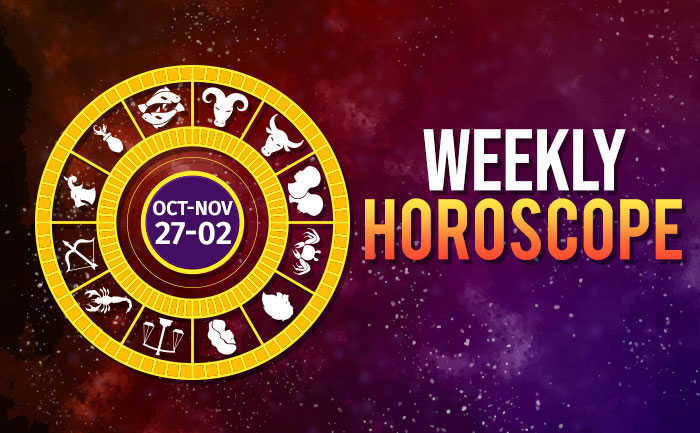 Planets have a big influence on our life. They affect each individual in a different manner as per their Sun Sign. Sometimes they have a positive influence and sometimes it is not so. You must be wondering how this first week of September plays out for you? Do not feel jittery read our weekly horoscope. Follow it, and relax.
Here is your weekly horoscope as per your Zodiac Sign:
Aries:
You like to be first, and as a cardinal fire sign, you naturally accrue scrapes and bruises. It's part of the way you navigate life.  Perhaps you'll be more clumsy than usual. Watch for accidents. Towards the end of this week, you'll need to make time for meditation and yoga to keep calm.
If you are looking for a job, you are likely to get some good news this week.  Overseas ventures will be good for you business-wise and you will do an amazing job. You will find this time to be good for your career. Singles desperately looking for love will see their dreams come true this week. Married couples learn to be more tolerant and caring.
This week you face no major health problems and will also find some relief from a stomach ache.  Exercising in the fresh morning air and eating healthy food makes a huge difference in your health.
Taurus:
A degree of fame is practically guaranteed this week, you will enjoy basking in the warm glow of your peers' respect and appreciation. You feel positive physically, mentally and emotionally and are a supercharged beacon of goodness and light. Auspicious events are just around the corner and will keep you busy.
Students preparing to have a career in the field of IT, medicine or engineering will succeed in your efforts.  Those of you planning to make a career out of trading in share markets, hold off for a little while longer. It is not the best career option. This week those who are single can expect some excitement in their life as they meet someone who really intrigues them. You should get to know this person better as they could be really suited to you.
This week, there are possibilities that you could suffer from some minor health problem. This could be triggered by tension or overindulgence in work. You must also refrain from over drinking.
Gemini:
Embrace the need for change and see what happens. Your elders will be supportive, nurturing and encouraging during this period of transition. You impress others this week in an utterly effortless way, which could accrue you new jobs, friendships or relationships.
You are likely to be assigned an important assignment with strict deadlines.  This is the perfect time for you to use your talent to move your career forward. Your seniors will appreciate the amount of hard work that you have been doing.  There is a very strong possibility of your falling in love with one of your colleagues this week. It would be best not to encourage this for the time being as this could adversely affect your career.
Those of you with digestive disorders have a reason to smile this week, as you will see a significant improvement in your overall health. Your exercise regime starts showing positive results now.
Cancer:
Your mind is astute, and you can make good decisions this week. You may even be called upon to assist others. Negative thoughts may make you feel restless.  The key is to be consistent with meditation, exercise and other spiritual endeavours.This is a time for newness, a new home, career, lover. Be open to what life brings you.
This week you will get many opportunities to exhibit your talent. Your ideas will be unique and will help you stand out in the crowd. Whether it is business or a job, whatever you undertake will reach its target.  If you are single you may come across someone you really like, although you will hesitate to express your feelings. Advice for you is to hold your tongue as the one whom you like may not feel the same way about you.
Your health will improve a lot and you`ll see some good changes in your lifestyle. This keeps you in great spirits throughout the week.  This is a good week to start that exercise regimen that you have been planning for a long time now.
Leo:
This is great for you financially and personally. Your calendar may be busier than usual. People are impressed by your ability to communicate, which is bold, authoritative, commanding but also warm and jovial.  As a confident, buoyant soul, you can sometimes lose yourself in optimism and forget about practical, earthly matters. Make sure that you keep a watchful eye over what is yours.
You can expect a raise or a promotion in the near future. Sales and marketing people if offered a new job should take it up as this will prove to be a very good chance for you later on. Think about benefits in the long-run. This week will bring some unseen problems in your love life. Spend some time with your love interest this week. This will help in establishing a stronger relationship.
Your healthy lifestyle will keep you out of trouble and you will be interested in improving life further. Meditation and Yoga may interest you deeply and bring you peace of mind.
Virgo:
This is a time to focus on YOU. There are many ways that you can care for yourself, including eating well and taking steps towards achieving your dreams. Don't be afraid to speak your truth. Avoid bad habits or people with bad communication skills this week. You are making too much progress to fall back now.
This week things will turn out the way you had planned for yourself. Any kind of difficulties will be removed from your path.  A new job is indicated for some of you. This week you will need to put in some extra efforts to bring the excitement back in your love life. Single people will have to wait before you meet the partner who is truly compatible with you.
This week will be good for you. All the joint aches that you had been experiencing will disappear. You will find yourself eating healthy and nutritious food.
Libra:
Air signs are prone to mental tension Consistent meditation and positive practices will be helpful. Remember your health should be your priority, particularly your mental health. This week your dreams may begin to come true. You'll find that what you can think of, can manifest easily.
Students preparing for IT, CA, MBA and MCA exams will find themselves concentrating very hard this week.  Those who are employed will hear good news from their HR department about a promotion. This week, a new relationship is highly indicated to make life much better for you. Candlelight dinners will help you make the most of this romantic week.
This week, youngsters need to channelise their energy into more productive areas instead of wasting it on TV or computers. Your forceful, assertive and passionate approach will remove all the obstacles.
 Scorpio:
Your self-confidence could not be better this month, and this serves you well in absolutely every area. A self-confident Scorpio can most certainly be intense!  You are drawn to beautiful, comforting and useful things. Also drawn to travel, you want to have an adventure of some kind.  There will be opportunities galore this week.
The week ahead is indicated to be a busy one for your career with too many responsibilities on your shoulders.  You may find cumbersome work to be overwhelming. You seek new work that challenges you in many different ways.You are yearning for the company of your partner, as your professional responsibilities are likely to keep you busy throughout the week. But, don't worry; distance makes the heart grow fonder.
Take special care of your health this week as you are likely to fall sick. Take extra precautions against the fast-changing weather.
Sagittarius:
Your priority this week should be your health. Just watch for silly accidents and mental fatigue.  You will enjoy travelling and trying new foods. This week you will be super productive and your output to increases both in quality and quantity.
This week will be good for most of you careerwise. People who are in government jobs might be transferred suddenly or even switch their jobs altogether. Tour and travel companies will bring profits. If you are lately thinking about introducing your beloved to your family, then do it before it becomes too late. It would need a lot of convincing on your part.
Eating right will be the fitness mantra of the week for you. You will make some good changes in your diet and get rid of digestive disorders.  Avoid street food to stay healthy this week.
Capricorn:
Capricorns always complete what they start, but this week there will be some obstacles. Make sure that you also take time away from work to spend doing things you enjoy.  Try to avoid bad influences. There may be a tendency to drink too much after work for example.
Take decisions regarding your future very carefully this week. Do not be in a hurry to change your job or even apply for one, as this is not the right time.  Committed singles need to be on guard as some unpleasant situations are indicated for you. You may also feel that your love life is not all that great. You are not happy with the way things are going with your mate.
This week, your health will be in decent condition as no major problems are indicated. Your stress levels will also remain low.
Aquarius:
This is not the time to make any big, life-altering decisions. Your mind is whirring and restless and it needs to experiment and wander before it can truly settle on anything. If you feel you must make a decision soon, seek expert advice. You are evolving, transforming, and you are already lightyears ahead of your peers.
This week will be good for most of you careerwise.  Students of mechanical engineering will fare really well this week.  If you are looking for a good investment option you can consider shares and stocks.  If you are lately thinking about introducing your beloved to your family, then do it during this week. The time ahead will be great to go open about your relationship and to talk to your family about your love life. It would need a lot of convincing on your part but there's a high chance that ultimately, it will pay off.
You will make some good changes in your diet and get rid of digestive disorders. Some of the diseases that have been causing problems in your life are likely to be cured soon.
Pisces:
Your professional and personal life is a mixed bag right now, so make sure that you take the time to get things working in tandem. Balance is very important for Pisces natives. You can feel cast adrift otherwise. If you feel well, you will be better able to deal with stress.
This week you need to work at maintaining order at your workplace. Your leadership skills will help you handle tough situations in a much better way.  You will finally get a deal you had long had your eyes on. There are strong indications that a long-standing friendship could turn into love this week. Those of you who are committed will enjoy making  your partner feel incredibly special.
Weight-related issues may cause you some stress this week. By losing that extra weight you`ve been carrying around you will increase your energy levels.  Teenagers will see some improvement with skin problems.
Also Read: Libra Love Horoscope: Personality, Traits, Compatibility And Celebs Born Under This Zodiac Sign