Numerology Predictions For The Week -April 2 to April 8, 2021
Here check out the weekly numerology predictions for this week- April 2 to April 8, 2021, by renowned astrologer and numerologist, Hirav Shah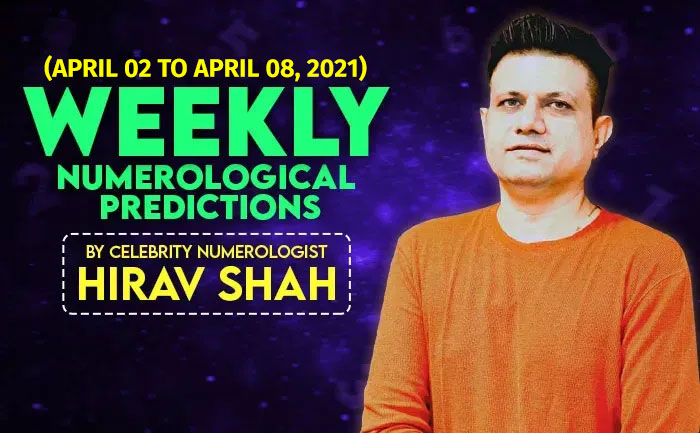 Numerology is an in-depth analysis of numbers which are connected to someone's life journey. Numerologists discover more information about a person or event based on their date of birth and time. Numerological studies are basically about getting to the root numbers which can serve a guide point for individuals change their destiny, who believe in it. Here's your weekly numerology predictions by renowned astrologer and numerologist, Hirav Shah.
Weekly Numerology Prediction- April 2 to April 8, 2021
1. Weekly Numerology for Number 1 (SUN): Those born on the 1st, 10th, 19th and 28th in any month
The beginning will be good. A close relative will also be involved in achieving the goal. You will do your best to maintain confidence, morals and you will succeed. Maintain transparency in partnership related business. There is a possibility of any problem like urinary tract infection or inflammation.
Avoid wearing magenta color
Lucky days: Tuesday
Lucky color: Yellow
2. Weekly Numerology for Number 2 (MOON): Those born on the 2nd, 11th, 20th and 29th in any month
Your interest in spiritual and esoteric sciences will grow. You can also get excellent strategic advices. Your efforts to strengthen the financial position will be successful. Most of the time will be spent on marketing and outsourcing activities. There may be relief from a health problem that has been going on for some time.
Avoid wearing black
Lucky Day: Saturday
Lucky color: Orange
3. Weekly Numerology for Number 3 (JUPITER): Those born on the 3rd, 12th, 21st and 30th in any month
You will try to complete your tasks with proper understanding instead of haste. Your task will be completed with ease. Your efforts will be important to keep the relationship strong. Significant deals are likely to be made regarding the purchase or sale of older property. Don't take troubles like cough and fever lightly.
Avoid wearing yellow
Lucky days: Monday
Lucky color: Green
4. Weekly Numerology for Number 4 (URANUS): Those born on the 4th, 13th, 22nd and 31st in any month
Yoga is becoming a success in your endeavors over the last few days. If any political work is stuck then there is a proper opportunity to complete it. Housewives and working women will be able to fulfill their responsibilities towards their home and family properly. Be health conscious.
Avoid wearing black
Lucky days: Sunday
Lucky color: White
5. Weekly Numerology for Number 5 (MERCURY): Those born on the 5th, 14th and 23rd in any month
Recognize your talents at this time and keep your routine organized with full energy. The planetary conditions are very satisfactory. The presence of close people in the house can create a lively atmosphere. Protect yourself from the changing environment.
Avoid wearing gray
Lucky days: Thursday
Lucky color: Lemon
6. Weekly Numerology for Number 6 (VENUS): Those born on the 6th, 15th and 24th in any month
Your social boundaries may increase. At this point the solution to the property or any other stalled work can be found with the help of someone involved in politics. Any dispute concerning the Society may come to your side. Your presence and concentration in the workplace will be very important. Health will be excellent.
Avoid wearing pink
Lucky days: Wednesday
Lucky color: Cream
7. Weekly Numerology for Number 7 (NEPTUNE): Those born on the 7th, 16th and 25th in any month
Focus your attention on important tasks, not distractions. The conditions at this time are advantageous. Any of your ambitions will be fulfilled with the help of a well wisher. Your positive thinking and regular routine will keep you healthy. Don't let stress get in the way.
Avoid wearing Sky Blue
Lucky days: Friday
Lucky color: Violet
8. Weekly Numerology for Number 8 (SATURN): Those born on the 8th, 17th and 26th in any month
A few troubles will come up, but you will solve the problem with your intelligence and ingenuity. Spending some time with close relatives will make the relationship stronger. Overseas business will soon gain momentum. Any stubbornness of children can bother you.
Avoid wearing brown
Lucky days: Monday
Lucky color: Dark green
9. Weekly Numerology for Number 9 (MARS): Those born on the 9th, 18th and 27th in any month
You will be in a relaxed mood and there will be happiness in the mind when any important work is done. Happy time will be spent with close friends and relatives. There may be a few disputes in a joint family. This time there is a need to find a solution with patience and discretion. Problems related to blood pressure may increase.
Avoid wearing brown
Lucky days: Monday
Lucky Color: Coral
Celebrities of the week :
April 2 – Ajay Devgn
April 2 – Remo Dsouza
April 2 – Kapil Sharma
April 3 – Prabhu Deva
April 4 – Lisa Ray
April 7 – Jeetendra
For more such updates, stay hooked on to The Live Mirror.
Also Read: Numerology Predictions For The Week – March 26 To April 1, 2021