Weekly Numerology Predictions For The Week: May 21 to May 27, 2021
Check out weekly numerology predictions (from May 21 to May 27, 2021 ) by renowned astrologer and business strategist, Hirav Shah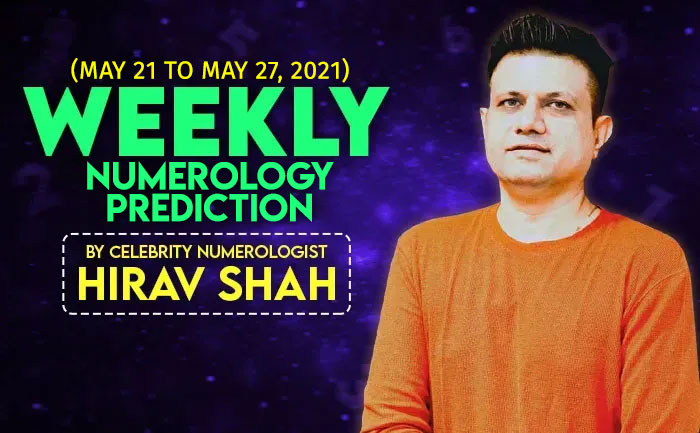 Renowned astrologer and numerologist, Hirav Shah makes interesting predictions for this week. Numerologists specifically study the birthdates and timing to make such predictions. It includes the study of specific numbers to find the magical relationship between humans and the universe. Here check out the weekly numerology prediction from May 21 to May 27, 2021 by Shah.
Weekly Numerology Predictions By Hirav Shah:
1. Weekly Numerology for Number 1 (SUN): Those born on the 1st, 10th, 19th and 28th in any month
The hard work done to achieve a particular goal will yield excellent results. You can also be involved in housekeeping and cleaning to help your family members. It would be appropriate to spend time in a few religious and spiritual activities to stay positive. Health can be fine.
Avoid wearing brown
Lucky days: Wednesday
Lucky color: Cream
2. Weekly Numerology for Number 2 (MOON): Those born on the 2nd, 11th, 20th and 29th in any month
It is the best time to bring out any special talent. It will give you peace of mind. An extra source of income may also be available in the future. There will be little concern about the health of any member of the household but soon everything will be fine. The relationship between husband and wife can be good.
Avoid wearing violet
Lucky days: Saturday
Lucky color: Yellow
3. Weekly Numerology for Number 3 (JUPITER) : Those born on the 3rd, 12th, 21st and 30th in any month
Students and youth should be engaged in social activities without stress. Any dispute over property will be resolved. Cut down on unnecessary expenses. Otherwise there could be stress. Keep the home environment pleasant and disciplined. Acidity and gas can be a problem.
Avoid wearing red
Lucky days: Tuesday
Lucky color: Blue
4. Weekly Numerology for Number 4 (URANUS): Those born on the 4th, 13th, 22nd and 31st in any month
Stay away from laziness and frustration. Try to complete your tasks without expecting anyone's help. This can lead to a positive change in your lifestyle and routine. Business needs to be done more carefully at this time.
Avoid wearing light green color
Lucky days: Sunday
Lucky color: white
5. Weekly Numerology for Number 5 (MERCURY): Those born on the 5th, 14th and 23rd in any month
It will be beneficial for you to have a sense of service to the elders of the house and to adopt their guidance in your life. Young people will be relieved if any work related to their career is completed. Don't make any decisions without knowing the facts. The impact of the environment can be on health.
Avoid wearing orange
Lucky days: Sunday
Lucky color: Purple
6. Weekly Numerology for Number 6 (VENUS): Those born on the 6th, 15th and 24th in any month
Even in adverse situations you will maintain patience and restraint and engage yourself in constructive activities. Also try to bring some innovation in life. Before investing money in risky activities, get proper information about it. Any confusion going on in the mind will be resolved soon.
Avoid wearing golden color
Lucky days: Thursday
Lucky color: Magenta
7. Weekly Numerology for Number 7 (NEPTUNE) : Those born on the 7th, 16th and 25th in any month
Stuck tasks will pick up speed a bit. The attainment of its auspiciousness may be more than expected. Helping someone in need will give you a sense of relief. Your interest in religious and spiritual activities may increase. Husbands and wives need to maintain good relations with each other. There may be some stomach problems.
Avoid wearing blue color
Lucky days: Monday
Lucky color: Blonde
8. Weekly Numerology for Number 8 (SATURN) : Those born on the 8th, 17th and 26th in any month
Having a positive attitude will strengthen your self-confidence. Suddenly you will come in contact with a few people who will also be helpful in your upliftment. The elders of the house will have affection and blessings. Do not use negative words in any conversation.
Avoid wearing orange
Lucky days: Friday
Lucky color: Gray
9. Weekly Numerology for Number 9 (MARS): Those born on the 9th, 18th and 27th in any month
This week will remain very productive and positive. You will be able to make solid and important decisions in the right way in financial matters. The work will be more but at the same time success will be achieved. Fate can help you in many tasks. There will be a need for more publicity for trade-related activities.
Avoid wearing pink
Lucky days: Thursday
Lucky Color: Sky Blue
Celebrities of the week :
May 21 – Aditya Chopra
May 22 – Novak Djokovic
May 24 – Rajdeep Sardesai
May 25 – Karan Johar
May 25 – Kunal Khemu
May 27 – Ravi Shashtri
For more such updates, stay hooked on to The Live Mirror.
Also Read:  Weekly Numerology Predictions For The Week: May 14 To May 20, 2021