Will stop taking water if forced out: Delhi Deputy CM Manish Sisodia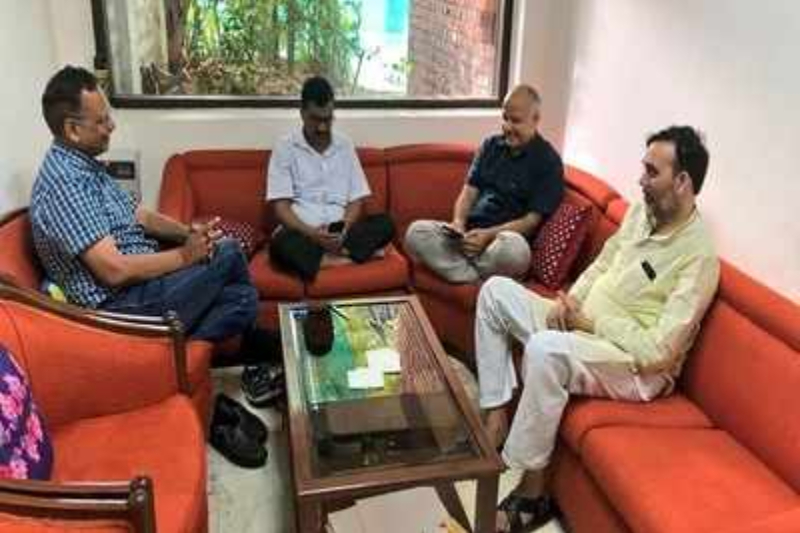 Delhi Deputy Chief Minister Manish Sisodia, who along with Health Minister Satyendra Jain is on a hunger strike at the Lt Governor's (LG) office, on Friday said they will also stop taking water if they are forcefully taken to a hospital.
Ambulances and a team of over 20 doctors reached the LG office on Friday as Jain and Sisodia's indefinite fast entered the fourth and third day respectively.
Additional force has also been deployed in the area. According to informed sources, the LG office is planning to take them out of the office forcefully.
Sisodia released a video saying they are not going to end the fast until their demands are met.
"We are sitting inside the LG Office from the past five days. Jainji is on a hunger strike from the past four days and I am from the past three days," Sisodia said in the video.
"We are totally fit, our body is totally fine."
Sisodia said, "we have been informed that a number of doctors were called here and there is a plan to pick us up forcefully".
He warned the LG and the Prime Minister against doing any such thing, saying they will also stop taking water if taken away forcefully.
"Instead of forcing us to break the fast, kindly focus on our demands."
Sisodia said since morning, they have not been provided enema, given to people fasting to remove toxic body waste.
Chief Minister Arvind Kejriwal also questioned the arrival of ambulances and doctors. "Why are they planning to take them forcefully? It is just four days. Both of them are fit. They are fighting for the people of Delhi," Kejriwal tweeted.
Kejriwal, Sisodia, Jain and Cabinet minister Gopal Rai have been camping in the Raj Niwas — the official accommodation-cum-office of LG Anil Baijal — since Monday evening.
They have been demanding a direction to the IAS officers working in the Delhi administration to end their undeclared strike, action against officers who have struck work for "four months" and approval to his government's proposal for doorstep delivery of ration to the poor.