World Cup 2018: France kick Argentina out with a 4-3 win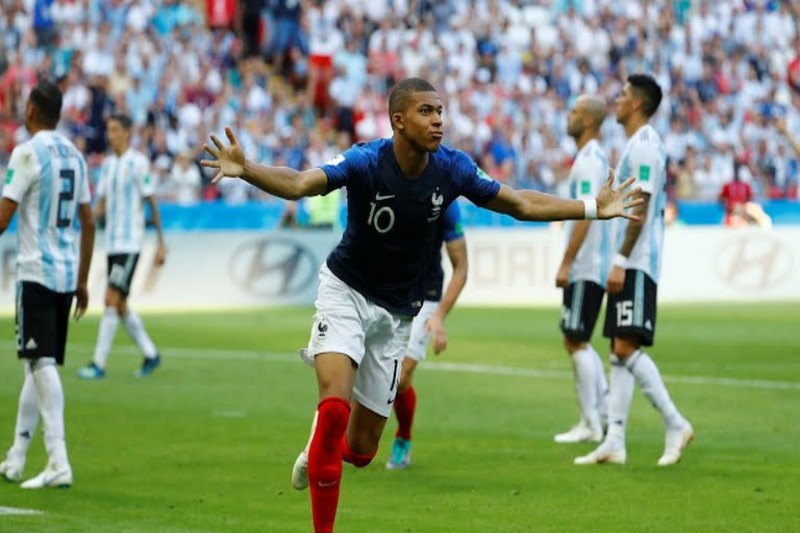 An obsolete defence lay in tatters, out-paced, nullified and then shattered as France sprinted their way into the quarter-finals hammering Argentina 4-3 at the Kazan Arena on Saturday.
Kylian Mbappe scored twice after France had taken lead through Benjamin Pavard's pile-driver, becoming the second youngest after the great Pele to score at-least two goals in a single World Cup.
But those goals came at moments 'La Albiceleste' were running away with the match, and it put France in the pedestal with Argentina never really looking convincing enough to get there. They did score once in the 92nd minute, when Sergio Arguero headed into goal straight from off the bench but Lionel Messi couldn't and it was curtains for the two-time champions and perhaps for Messi too.
All that late goal could do was to spark some hope – at-least among the fans, the players moving forward one final-time. It was Ageuro again but his shot from the left flew-off the bar and so did Argentina's chances, who returns back dejected, destroyed and perhaps one final time with Messi among them.
He will be 35 by the time the World Cup comes round the corner and if those eyes looking straight into the heavens, hollowing through the clouds suggested something, it was the search for an answer.
What was the answer no one may ever know but what everyone knows is Argentina have been knocked battered, bruised and destroyed. They were always in danger of receiving such treatment against a youthful and talented France but will rather blame themselves after letting the game slip through.
Argentina's defence found no answer to the pace France generated and by the 10th minute they were on two bookings, a goal down and in danger of conceding another. Griezmann had scored that goal from the spot after Marcos Rojo – saviour from their last match – pulled down the young PSG star.
France then hit the post from a free-kick and had Paul Pogba skying another from a similar position. But Argentina slowly grew into the game and as Messi found Pavon free in the 39th minute, they had already squandered an opportunity to score.
Angel Di Maria then curled one home from just outside the box in the 41st minute and that was it, the South Americans were bubbling with confidence, 'Les Bleus' pushed backwards. They stepped into the second-half with that same confidence and scored a second just two minutes after play had started.
Also read: Neymar more a 'Diva' than a footballer
It was Gabriel Mercado this time with a little help from Messi, whose left-footed shot took a deflection of Pavard before hitting the Argentine full-back on the way to goal.
But Pavard gained his redemption just nine minutes later and his goal was France's reply to Di Maria's heroics, a long-ranger straight into goal.
Mbappe then scored twice within four minutes both from coutner-attacks and both after blazing past old Argentine legs.
Next match: Uruguay vs Portugal from the Fisht Stadium at 11:30 pm IST.