World Cup 2018 Live Updates: France beat Uruguay 2-0 to progress into the semi-finals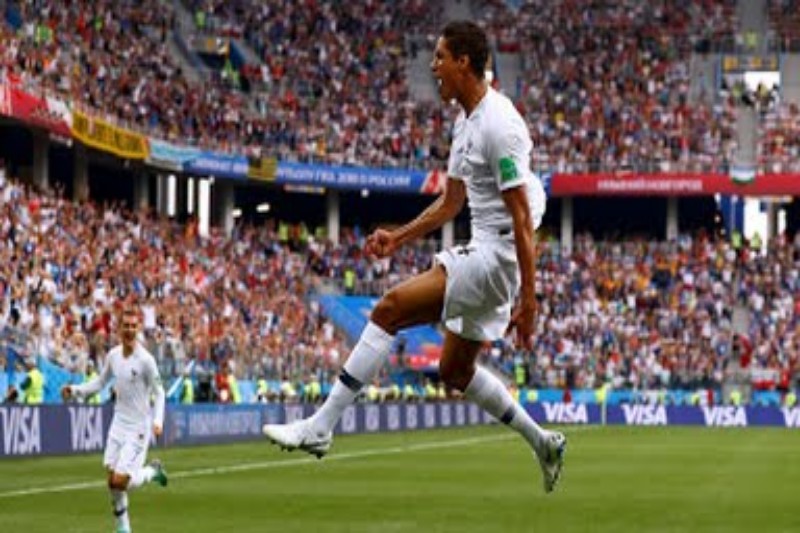 France beat Uruguay 2-0 to qualify for their sixth semi-finals. Uruguay once again go home from the quarter-finals. They missed Edinson Cavani more than they missed Luis Suarez.
Raphael Varane put 'Les Bleus' ahead in the 40th minute with a powerful header from a Antoine Griezmann free-kick. Then Griezmann himself got into the scoresheet from a Muslera howler. The ball moved in the air and the veteran goalkeeper was left wrong-footed. He tried to grab the ball instead of punching it but only ended up sending the ball into his own net.
There goes the whistle. France are into the semi-finals 
95: Uruguay attack one final time. Rodriguez's cross is cleared by Varane, it goes to Caceres whose cross is straight into Lloris' hands.
Goal scorer Griezmann goes off to a applause. Nabil Fekir replaces him
Final substitution for France
90: Five minutes of added time and a free-kick to France
Uruguay players break into tears the feelings are already coming out. Gimenez has broken down.
88: Mbappe replaced by Dembele
Second substitution for France 
87: Suarez tries to feed Rodriguez but the ball is let out of play by none other than the goalscorer Varane
86: it is still France attacking
Uruguay have failed to fire a single shot on target in the second-half
77: Nzonzi comes on for Tolliso
France with their first substitution 
74: Urretaviscaya comes on for Nandez
Uruguay with their final substitution
Uruguay attacking well but lacks the final ball Caceres and Laxalt have been wayward with their crosses.
73: Tolliso with a shot that just sails over
69: Yellow for Mbappe and Rodriguez
That was foolish from Mbappe who goes to the ground untouched. Godin is mad at him for simulation. The youngstar is booked for his play acting and is Christian Rodriguez who ends up fighting pogba
A fight has broken out
Griezmann has scored 7 goals in 6 appearances in the knockouts of a major tournament
France up 2-0 
61: Pogba intercepts a Uruguay attack and runs-off before passing to the Atletico Madrid star. Whose shot is spilled by Muslera..What a mistake
⚽⚽ Griezmann scores for france 
Ohh!! That's a howler 
Mbappe is warned for reasons unknown.
Christian Rodriguez replaces Bentancur 
59: Substitution..  Maxi Gomez on for Stuani 
Double substitution for Uruguay
58: Uruguay attack and attack but PAVARD clears
55: Nandez fouls Hernandez and free-kick to France
53: France gets a corner , Griezmann delivers but Suresh clears and Pavard finds the stands with a long shot
France finding more space as Uruguay attacks for the equaliser
47: Uruguay almost concedes again …..
The last time Suarez and Cavani didn't start together, Uruguay lost 1-4
The second-half begins ……..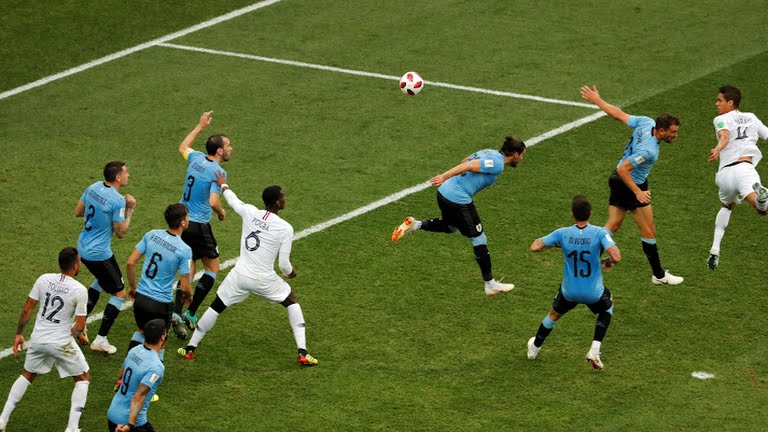 Varane scored from a thumping header and Lloris pulled up a brilliant save to keep 'Les Bleus' ahead.
The whistle blows…France leads Uruguay 1-0 at half-time. 
45+1: Umtiti fouls Suarez…Pogba pulls Godin down in the penalty box. But redreee waves play-on
Two-minutes added
43: Caceres heads a Lucas Torreira free-kick into the right corner but Hugo Llrois stretches fully to keep it out. Godin comes close on the rebound. Out for a corner
Oh Uruguayyyy!!! Lloris pulls up a blinder 
41: Uruguay immediately attacks and earns a corner
Only the second goal Uruguay have conceded this world cup. Muslera had no chance there….
39: Varane runs from behind to meet Antoine Griezmann's free-kick and Uruguay's defence is breached. What a goal!!
⚽⚽⚽Goaaaalllll !! Raphael Varane scores for France 
Yellow for Bentancur!! He will miss the next match if Uruguay progress
38: Bentancur kicks Tolliso from behind and is rightly booked.
36: Vecinoooo He takes the ball down and fired but it is too tame
Silly foul there. He has tore Nandez' t-shirt
There comes the first yellow !! Lucas Hernandez 
33: Hernandez pulls Nandez' shirt and ends up receiving a yellow
Both the goalkeeper are making their 102nd appearances for their country
31: Caceres sends the ball flying from his own-half above the  goal post
France have not scored againt Uruguay with a normal shot in the alst six meetings…penalties today??
29: Pogba nearly finds Giroud with a lovely cross but Muslera takes it
26: France with their second corner again wasted
23: Suarez pushes Pavard, now Laxalt does the same to Mbappe
22: Godin clears and Pogba again skies the ball this time into Muslera's hands
21: Pavard earns the first corner for France. Griezmann to take
20: Dangerous signs for Uruguay, Griezmann and Mbappe are connecting well
18: Paul Pogba with a shot straight into the stands. Wasted, France was building up some good possession
15: A lovely cross by Pavard is sent into mabappe's path by Giroud. But the French sensation fails to place his header on target. He was unmarked there
ohh France should have scored there 
14: Torreira takes it Lloris somehow clears
1st Corner of the match for Uruguay
13: Suarez is fouled by Umtiti
11: Mbappe caught by Laxalt.. the teenager is limping
10: out for a goal kick. Varane fails to hit it on target
Free-kick to France.  Griezmann to take it
9: Now Stuani fouls  Lucas Hernandez…. oh its nasty
7: Pogba fouls Stuani
Great start from both these sides…
5: Uruguay comes close again but Bentancur's cross is lot and France clear
3: Uruguay break through and almost scores but Suarez fails to hit
2: Olivier Giroud fouled
Uruguay are unbeaten against France at the World Cup. Both sides faced each thrice,with the South American winning once. The other two ended in draws.
Breaking: Edinson Cavani not in the opening line-up
URU XI : Muslera; Gimenez, Caceres, Godin, Laxalt; Nandez, Torreira, Bentancur, Vecino; Suarez, Stuani.
FRA XI vs: Lloris; Pavard, Varane, Umtiti, Hernandez; Pogba, Kante; Mbappe, Griezmann, Tolisso; Giroud.
#WorldCup
The teams have been announced..
France looks to have the best attack this tournament.  Kylian Mbappe and Antoine Griezmann combined really well against Argentina. The 19-year-old's pace forced Javier Mascherano into retirement and it might be the same for Diego Godin today.
Uruguay has been defensively solid, conceding just once in four matches. Their attack has been equally A+, with both Luis Suarez and Edinson Cavani scoring for them. The PSG  star especially was at fire against Portugal, scoring twice.
Hello and welcome to the live coverage of the first quarter-final of the World Cup 2018.