Fans are 'sad' and in 'tears' as Yuvraj Singh announces his retirement
Yuvraj Singh announced his retirement from ODI today at a press conference.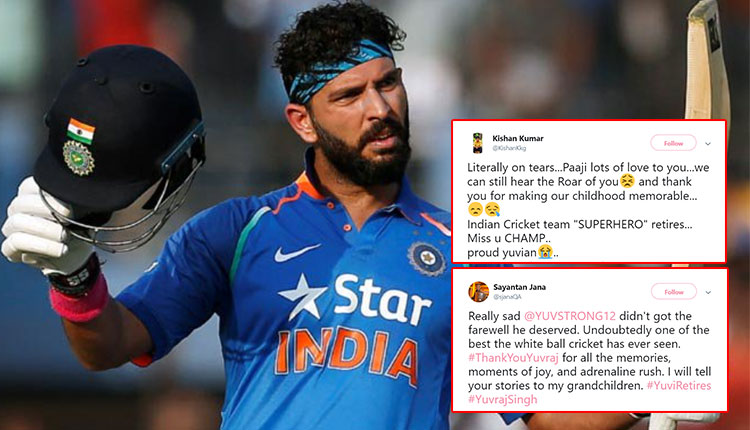 Today at a press conference in Mumbai, Yuvraj Singh has announced his retirement from One-day International (ODI). The announcement came as a shock to all of us specially his die-hard fans. Yuvi has proved his mettle as an ace cricketer and his performance in the World Cup 2011 was so spectacular that it is still etched in our memory. Twitter is flooded with reactions by his fans. While some are raving his all-rounder performance, one user has called him "An Incredible Fighter a Spectacular Sportsman and a great human."
Have a look at the tweets.
One of the best fielder, finisher, allrounder, hard hitter, and one of the main man behind 2 World Cup wins for India. One of the best cricketer to ever don an Indian jersey. #ThankYouYuvraj, for the memories!! ?????#YuvrajSingh pic.twitter.com/Y9CzF1QRhN

— ?????? ??? ??????? ????? (@ComradeThanos) June 10, 2019
The man who battled CANCER
The man who won two worldcups
The man who fired six sixes
The man who showed the world "Never Giveup"
A Incredible Fighter a Spectacular Sportsman and a great human
Thanks for memories #Yuvrajsingh pic.twitter.com/N7EM65xUDh

— Bobby Singh Bkw (@BkwBobby) June 10, 2019
This would be remembered for eternity!! Thank you #YuvrajSingh for your splendid contribution to Indian Cricket!! pic.twitter.com/8Te8tIsmwJ

— Mohan Sriram (@imohanvis) June 10, 2019
Good bye from cricket ground…A all-time great cricketer #YuvrajSingh ..Welcome new age and new work for your life..best of luck too #ThankYouYuvi #ThankYouYuvraj @YUVSTRONG12 pic.twitter.com/i8jghdUycZ

— I'm Shahid (@ImShahid8) June 10, 2019
Literally on tears…Paaji lots of love to you…we can still hear the Roar of you? and thank you for making our childhood memorable…??
Indian Cricket team "SUPERHERO" retires…
Miss u CHAMP..
proud yuvian?..#YuvrajSingh #Yuvrajsinghretires pic.twitter.com/cPMwvWR4HX

— Kishan Kumar (@KishanKkg) June 10, 2019
#YuvrajSingh,You entertained us,stunned us ,made us cry & emotional.Your showreel will remain intact in our memories. Your entertainment was bigger than the 1000 crore movie. Cricket will miss you, we will miss you. All the best for the second innings@YUVISTRONG12. pic.twitter.com/3gNBSVnfOR

— harsh bawari (@bindassharsh) June 10, 2019
#YuvrajSingh you are a true legend. We'll miss you champ. Will be my inspiration always…. Yes UV CAN and will do it. Thanks for everything you gave to this nation . India won't get any other YUVI. "Dhaga khol diye tum , itna mara sare bowlers Ko" pic.twitter.com/arlFXuACqy

— Gaurav saraswat (@this_is_GS) June 10, 2019
While announcing his retirement Yuvraj said, "I was extremely lucky to play 400 games for India. I could have never imagined it when I first started playing cricket."
"It was a love-hate relationship with this game. I can't explain what it really means to me. This game taught me to fight. I have failed more times than I succeeded and I will never give up," he further added.
Also Read: Yuvraj Singh Announces Retirement From International Cricket; Deets Inside