23-year-old Hyderabadi man victim to rash driving and politics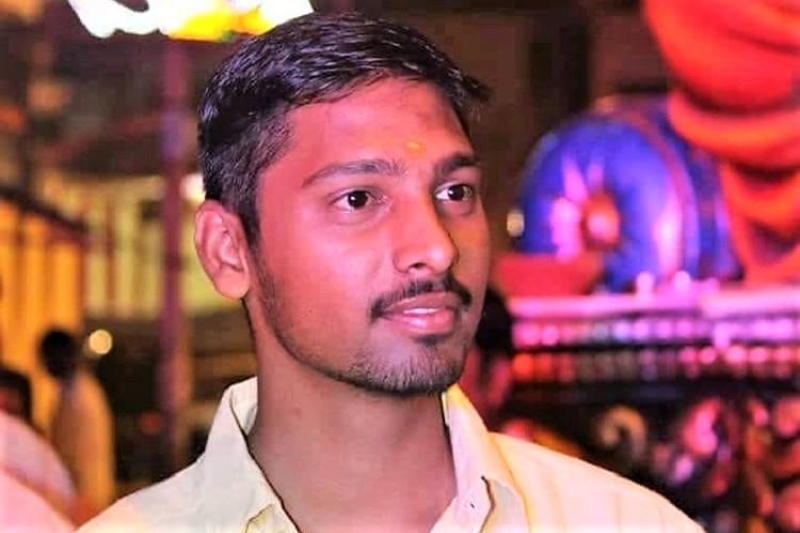 Sai Krishna, who wanted to become a constable, is now battling for his life at a private hospital in Hyderabad.
"Despair is the only thing we are left with. We don't want anyone to be charged, all we want is the money to treat my son," says G Deva Reddy, father of 23-year-old G Sai Krishna Reddy.
This heartwrenching response from the victim's father who comes from a humble living unfolds after Akshay Goud, son of an ex-corporator from the BJP, Madhu Goud, rammed his car into Sai's bike, allegedly in an inebriated condition.
Sai Krishna is the only son of Deva Reddy, a carrier vehicle driver, and G Lakshmi, who works as caretaker at a local school.
On June 16, at around 1.30 am, when Sai Krishna and his friend Yaakesh were returning to their home in Kavadiguda on their bike, Akshay allegedly knocked them down at Secretariat, Telugu Talli flyover. In the accident, both Sai Krishna and Yaakesh sustained serious injuries.
Akshay, with the assistance of another person, shifted both the victims in his car to a private hospital in Hyderguda, where Sai Krishna is being treated. While Yaakesh was discharged within two days after getting 45 stitches on his head, unfortunately Sai Krishna is on life support.
Though Deva Reddy filed a case against Akshay Goud the same day with the Saifabad police, he is now not interested in getting Akshay arrested for mowing down his son.
"What will I get if he goes to jail? Police are saying that he will come out on bail soon. I just want my son out of the hospital," says a helpless Deva Reddy.
After the accident, Sai Krishna's family asked the accused's family to bear the cost of the treatment. They initially paid Rs 5 lakh, according to Deva Reddy.
"We spent nearly Rs 4 lakh and they too paid Rs 5 lakh, but they stopped giving us money after that," claims Deva Reddy.
According to Sai Krishna's family, the daily expenses towards his treatment is Rs 60,000.
Paneeru Teja, Sai Krishna's friend, told TNM that after admitting the victims in the hospital, Akshay fled and his family offered money for the treatment through a mediator.
"Initially they paid some money and agreed to a compensation of Rs 10 lakh. However, when we asked the doctors, they said that the ventilator cost is Rs 60,000 every day and that Sai needs to be on life support for at least two months. So, the compensation was not adequate," he said.
Teja added that after learning that Sai Krishna's condition was critical, the accused's family denied them further compensation, allegedly saying, "We don't want to spend money on him (Sai Krishna) as anyway he will die."
Also Read:Man from Hyderabad stabbed for adopting Muslim girl
Madhu Goud told TNM that he had visited the victims and ensured that the treatment was at a private hospital. "The accident has happened and it was not intentional. If my son was drunk, how did he personally ensure that both of them were admitted to the hospital for treatment? The media reports are totally false. As soon as I heard the news, I personally visited the victims," he said.
"They have been admitted at a hospital near my house and I even asked authorities not to shift them to the government-run Gandhi hospital as private hospitals offer better treatment. We even paid for their treatment," he added.
He was however unwilling to disclose if they had stopped paying the hospital.
Sai Krishna's parents are left with no option but to plead with them for help.
Deva Reddy says that he doesn't want Akshay to be arrested, because Akshay's family would then stop paying for his son's medical expenses.
"Sai is my only son. We have exhausted all the money we had saved up so far. I have even been approaching ministers to help us," he says with tears in his eyes.
With the medical expenses mounting with each passing day, Teja has started a fundraiser on Milaap.
"Sai's parents are really poor; they have spent their savings already. There is no other way other than a fundraiser. We are also going to get in touch with Minister KT Rama Rao so that he can help save Sai with money from the CM relief fund. Wish he bails us out from this crisis," Teja said.
The perpetrators might roam free and won't have any accusations put on them as the police suggested to the distraught parents of Sai Krishna but there seems to be no justice in terms of a flimsy "compensation" to the victim's kin. The life of Sai Krishna now hangs by a thread or quite literally by the life support system that he probably cannot be given as his family cannot afford it.