3.5-Magnitude Earthquake Hits East Delhi
An earthquake of 3.5 magnitude on the Richter scale has hit Delhi at 5.45 pm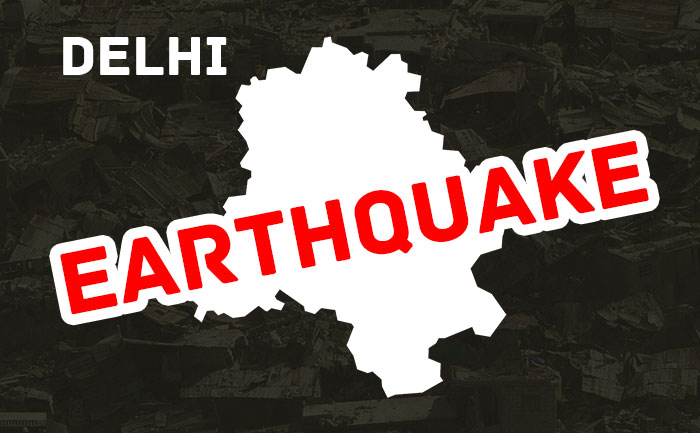 An earthquake shook Delhi-NCR on Sunday evening. The tremors from this earthquake were felt across the national capital region.
As per initial reports, an earthquake of 3.5 magnitude on the Richter scale has hit Delhi at 5.45 pm on Sunday evening. This promoted panic stricken people to rush out of their homes.
It is being reported that the epicenter of this earthquake could be East Delhi's Sarita Vihar area according to National Center for Seismology under the ministry of earth sciences. The location coordinates are latitude 28.7 N and longitude 77.2 E, depth 8 km.
Satyanarayan Pradhan, the DG of National Disaster Response Force, shared the news on Twitter. He wrote:
"Earthquake of Magnitude: 3.5 just happened in Delhi NCR. Occurred on:12-04-2020, 17:45:03 IST, Latitude: 28.7 N and Longitude: 77.2 E, Depth: 8 Km, Region: NCT Delhi"
Earthquake of Magnitude:3.5 just happened in Delhi NCR
DETAILS OF EARTHQUAKE ?
Occurred on:12-04-2020, 17:45:03 IST, Lat:28.7 N & Long: 77.2 E, Depth: 8 Km, Region: NCT Delhi.@NDRFHQ @ndmaindia

— ѕαtчα prαdhαnसत्यनारायण प्रधान ସତ୍ଯ ପ୍ରଧାନ-DG NDRF (@satyaprad1) April 12, 2020
Earthquake tremors felt in Delhi-NCR. pic.twitter.com/TmR2dsmObh

— ANI (@ANI) April 12, 2020
The Delhi Chief Minister Arvind Kejriwal also tweeted soon after the earthquake hit, hoping for everyone's safety.
"Tremors felt in Delhi. Hope everyone is safe. I pray for the safety of each one of you."
There have been no reports of damages or injuries so far. As most people were at home due to the coronavirus lockdown, they took to social media and posted about the earthquake.
Delhi is currently under lockdown due to the coronavirus pandemic. The Delhi government has sealed 20 COVID-19 hotspots in the national capital to combat the spread of the novel virus. The move comes soon after the Uttar Pradesh government decided to seal decided to completely seal hotspots in 15 districts of the state to avoid further spread of Coronavirus.