4 accused in Hyderabad rape-murder case killed in encounter
All four accused in Hyderabad vet rape and murder case shot dead in an encounter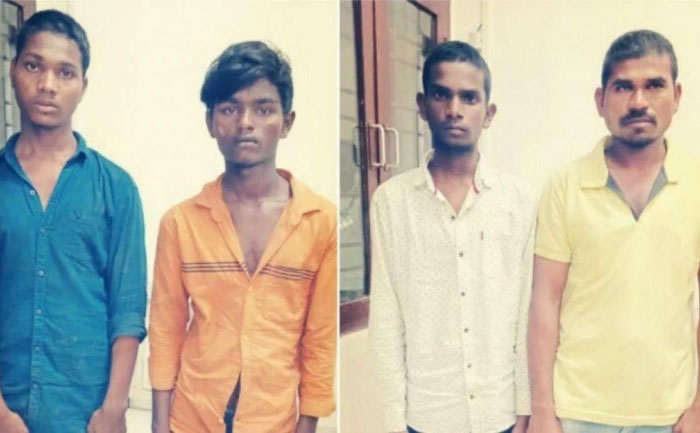 The four accused in the Hyderabad Rape and murder case have been killed in an encounter. The accussed who had been arrested in connection with the rape-and-murder of a 25-year-old woman veterinarian were taken to the crime scene Friday morning by the police as part of the investigation. However, they tried to flee following which they were shot dead.
Hours after the encounter, top police officers have rushed to the spot.
Hyderabad: Senior Police officials arrive at the site of the encounter. All four accused in the rape and murder of woman veterinarian in Telangana were killed in an encounter with the police when the accused tried to escape while being taken to the crime spot. https://t.co/TB4R8EuPyr pic.twitter.com/7fuG87MP0m

— ANI (@ANI) December 6, 2019
As reported by a source to The Hindu, The exchange of fire took place between 3.30 a.m. and 5 a.m. near the Chatanpally underpass, where the charred body of the vet was found. The accused tried to flee when they were taken to Chatanpally to reconstruct the crime scene.
The police alleged that one of the four accused had gestured to the other three to flee after attacking the cops. The four tried to run towards a deserted pathway when cops opened fire in self-defense, according to The Indian Express.
The Telangana Police were lauded by many for their overnight action by killing the accused in the rape and murder of the 26-year-old veterinarian. Locals even showered petals on them.
Hyderabad: Reaction of girl students when news of encounter of the accused in murder and rape of woman veterinarian broke out.

Isn't enough to watch emotions?#Encounter
pic.twitter.com/ek07XeggfD

— Vinita Hindustani?? (@Being_Vinita) December 6, 2019
Non stop showering of flowers on #hyderabadpolice Never seen anything like this ever before @hydcitypolice
People are dancing at the crime scene. KCR sir ?????? #DishaCase #PriyankaReddy pic.twitter.com/DHGQMHI3xw

— Pramod (@bjpramod) December 6, 2019
The accused killed in the encounter are Md Arif (26), the lorry driver and Jollu Naveen, Jollu Shiva and Ch Chennakeshavulu, all 20 years of age.
On November 27 the veterinarian who was on her way home after a medical check-up at Gachibowli was abducted near Tondupally toll gate of the Outer Ring Road near RGI Airport. Later, her charred body was found at the underpass near Chatanpalli. The gang rape-and-murder had triggered a nation-wide outrage with the public and lawmakers demanding speedy punishment to the perpetrators. The state government too had ordered setting up of a fast track court to expedite the trial.
The Cyberabad police are yet to make an official announcement on how the encounter took place.
Also Read: Telegana Rape Case: 3 cops suspended over delay in registering FIR