Korean Recipes: 5 Most Popular And Easy Dishes To Try At Home
Korean cuisine has evolved a lot with the course of time. Here is the step by step guide to help you for making these popular dishes at home.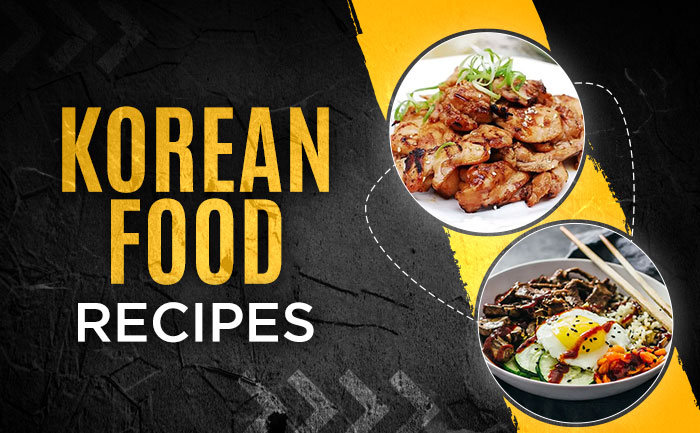 Korean cuisine is the customary cooking tradition and practice of the culinary arts of Korea.  Korean cuisine has evolved a lot over the course of time and has undergone many changes. Korean cuisine is highly popular all around the world.
Savory, spicy, and a smorgasbord of textures, Korean cuisine is something everyone should try once in their lives. Originating from ancient agricultural and nomadic traditions in Korea and southern Manchuria, Korean cuisine has evolved through a complex interaction of the natural environment and different cultural trends. It started with the K-dramas then the K-pop and Korean cuisine has spread like a wildfire all across.
Korean cuisine is largely based on rice, vegetables, seafood and, meats. Traditional Korean meals are named for the number of side dishes that accompany steam-cooked short-grain rice.
Many regional dishes have become national, and dishes that were once regional have proliferated in different variations across the country. Kimchi is served at nearly every meal. Commonly used ingredients include sesame oil, doenjang, soy sauce, salt, garlic, ginger, gochugaru, gochujang, and napa cabbage.
5 Most Popular Korean Recipes:
1. Kimchi Bokkeumbap
Kimchi fried rice or kimchi-bokkeum-bap is a variety of bokkeum-bap (fried rice), a popular dish in South Korea. Kimchi fried rice is made primarily with kimchi and rice, along with other available ingredients, such as diced vegetables or meats like spam.
Ingredients:
Cabbage
Beef
Butter
Spring onions, Garlic, Ginger
Sugar
White vinegar
Cooked Rice
Egg
Salt
Kimchi Juice
Sesame Oil
Soy Sauce
Recipe:
Heat canola oil in a large skillet over high heat.
Melt butter over medium-low heat, beef, and add onions.
Cook, stirring, until the beef and onions start to sizzle, about 2 minutes.
Add kimchi and kimchi juice, and stir until it comes to a boil, about 3 minutes.
Stir kimchi and gochujang into the meat mixture and cook until warmed through and fragrant, 2 to 4 minutes.
Add rice; cook and stir until rice is heated through and coated with gochujang, 3 to 5 minutes more.
Drizzle sesame oil over rice mixture and stir to coat.
Turn heat down slightly, but let the rice continue to cook, untouched, to lightly brown while you cook the eggs.
Melt 1 teaspoon butter in a skillet over medium-high heat. Crack an egg into the pan and cook.
Serve rice topped with a fried egg and sprinkle some sesame seeds.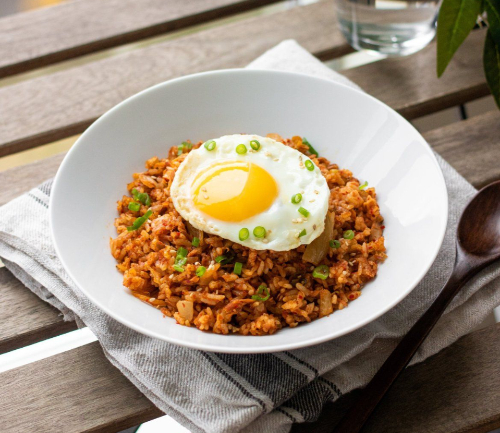 2. Tteok-bokki
Tteokbokki; or stir-fried rice cakes is a popular Korean food made from small-sized garae-tteok called tteokmyeon or commonly tteokbokki-tteok. Eomuk (fish cakes), boiled eggs, and scallions are some common ingredients paired with tteokbokki in dishes.
Ingredients:
Tteokbokki sauce
Korean fish cakes
Sesame oil
Anchovy stock
Rice cakes
Sesame Oil
Sugar
Cabbage
Fish Cake
Korean red pepper powder
Sesame seeds
Recipe:
Start by making the tteokbokki sauce. Mix the gochujang (Korean red pepper paste), gochugaru (Korean red pepper powder), soy sauce, garlic, and sugar in a small bowl and let the flavors combine.
Turn the heat back up and stir in the gochujang (Korean red chili paste), gochugaru (Korean chili flakes), soy sauce, and sugar.
When the stock is boiling, add the rice cakes and cook for 8 to 10 minutes, until they are soft
Chop the fish cakes into bite-size pieces and cook for 4 minutes.
Turn the heat off and add the sesame oil and scallions.
 Stir and serve tteokbokki in a bowl with sesame seeds on top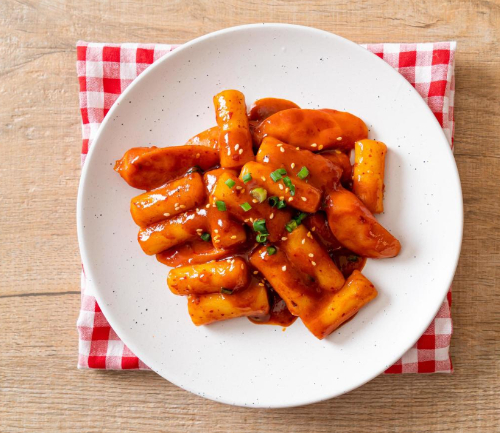 3. Bibimbap
Bibimbap, is a Korean rice dish. The term "bibim" means mixing rice, while the "bap" noun refers to rice. Bibimbap is served as a bowl of warm white rice topped with namul or kimchi and gochujang, soy sauce, or doenjang. A raw or fried egg and sliced meat are a common addition
Ingredients:
Cooked white rice
Kimchi
Beef
Bean sprouts
Carrots
Zucchini
Snow peas
Baby spinach leaves
Sesame oil
Gochujang
Garlic
Ginger
Soy Sauce
Eggs
White and Black Sesame seeds
Vegetable oil
Recipe:
Heat oil, sauté ginger, add raw rice, sauté for 30 seconds, add 100 ml of chicken stock and cook it covered for 20 minutes.
Sauté all veggies, chicken, separately with garlic, sesame oil, and soya sauce.
Prepare the sauce by heating a wok with oil, add garlic, chili paste and gochujang paste, and seasoning as required.
Make fried eggs.
Put the rice into a bowl and add the meat, assorted vegetables, seasoned seaweed, Bibimbap sauce, and the egg on top of the rice. Serve with gochujang sauce on the side.
Mix the ingredients well in the bowl and enjoy!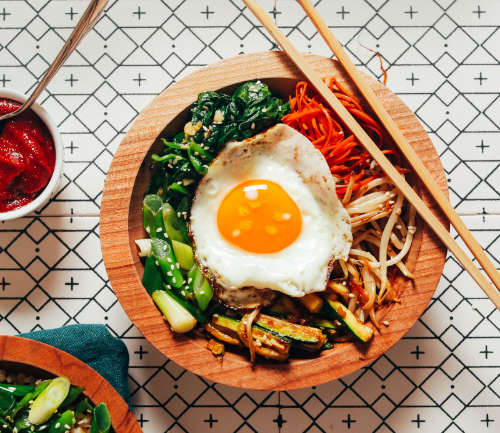 4. Japchae
Japchae is a savory and slightly sweet dish of stir-fried glass noodles and vegetables that is popular in Korean cuisine. It is typically prepared with dangmyeon, a type of cellophane noodles made from sweet potato starch; the noodles are mixed with assorted vegetables, meat, mushrooms, and seasoned with soy sauce and sesame oil.
Ingredients:
Dangmyeon noodles
Chicken, Beef
Carrot
Spinach
Garlic Cloves
Soy sauce
Sesame seeds
Green onions (optional)
Yellow and red bell pepper
Recipe:
Cook the Dangmyeon noodles in a large pot of boiling water according to package directions.
Transfer the noodles to a strainer, and strain out any extra water.
Drizzle the noodles with a bit of sesame oil, toss until coated, then set aside.
Place the beef strips into a medium bowl. Add the "beef marinade" and gently mix the sauce into the meat.
Then transfer the steak to a separate bowl, and stir-fry the veggies until softened.
Add the rest of the ingredients – sesame oil and sesame seeds into the large mixing bowl and gently mix them around.
Garnish with roasted sesame seeds.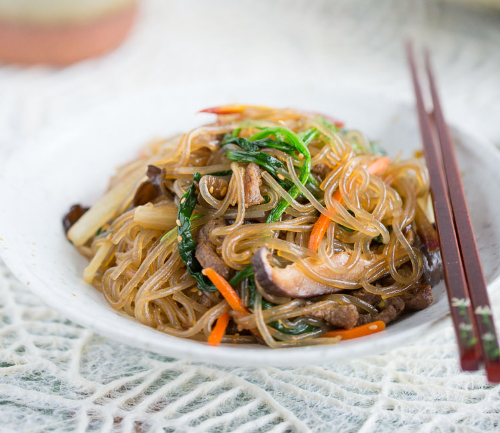 5. Gimbap
Gimbap, also called kimbap, is a Korean dish made from cooked rice and ingredients such as vegetables, fish, and meats that are rolled in gim—dried sheets of seaweed—and served in bite-sized slices.
Ingredients:
Dried seaweed sheets
Spinach
Eggs
Carrots
Crab sticks
Radish
Sesame oil
Olive oil
Sesame seeds
Recipe:
Rinse the spinach and parboil it in rapidly boiling water (30 seconds to 1 minute)
Drain the water away and run some cold water over the spinach. Gently squeeze the spinach to remove any excess water.
Put the spinach into a bowl. Add 1/8 tsp salt and 1/2 Tbsp sesame oil then mix them well.
Pre-heat a pan/skillet.
Add a small dash of cooking oil and spread it around the pan.
Add the beaten egg and cook both sides well over medium heat. Place the egg omelette on a cutting board and cut it into long strips.
 In a heated pan, lightly cook the carrots, crab sticks, and kimbap ham separately.
Place the cooked rice into a mixing bowl then add 1/2 Tbsp sesame oil and 1/4 tsp fine sea salt. Mix well.
Gather all the kimbap ingredients.
Place one dried seaweed sheet on the bamboo mat
Put the rice on the seaweed sheet then spread it evenly and thinly to cover about 2/3 of the seaweed.
Now fill the seaweed with the filling ingredients.
Place all the veggies and eggs. Then roll the seaweed.
 Line up all kimbap on a cutting board and paste some sesame oil (1 Tbsp) around the seaweed surface.
Slice kimbap into bite-size pieces and serve.
Stay tuned to The Live Mirror for more updates
ALSO READ: How To Pay Electricity Bill Online? Best Payment Apps In India