6 Dead, Houses Washed Away After Cloudburst In Uttarakhand
Cloudburst Washes Away Houses in Uttarakhand, Toddler Among 6 Dead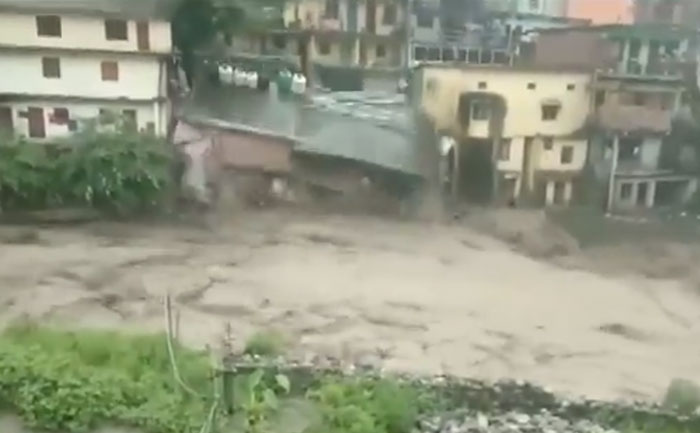 Monsoon this year is causing havoc across the nation. After causing destruction in Kerala, Maharashtra and Assam, we now have floods wreaking destruction in Uttarakhand. Six persons, including a woman and her nine-month-old daughter, were recently buried alive due to landslides after a cloudburst in Uttarakhand.
Landslides triggered by heavy rains hit three different villages in Ghat area of Chamoli district. The erosion caused by swirling waters of the flooded Chuflagad River also washed away two buildings standing close to it. A woman Roopa Devi and her nine-month-old daughter were killed as their house was washed away by a flash flood caused by a flash flood.
Check out the horrifying video of the tragedy here:
#WATCH House collapses as flash flood hits Vikas Khand Ghat's Lankhi village, in Chamoli, #Uttarakhand. State Disaster Response Force team has been rushed to the spot for rescue operation. pic.twitter.com/7KS2VVukcL

— ANI (@ANI) August 12, 2019
In the video shared by ANI we can see, a house in Vikas Khand Ghat of Chamboli district's Lankhi Village being swept away by the flash flood.
The state emergency operation centre in Dehradun said the debris of landslides fell over three houses in Banjabgad, Aligaon and Lankhi villages in Ghat area of the district early on Monday, trapping the occupants. All of them suffocated to death.
There seems to be no respite for residents of the hilly state as the India Meteorological Department (IMD) forecasted the likelihood of very heavy rainfall in parts of Uttarakhand on August 13 and 14. They have also issued an orange alert on both days.
Also Read: Mumbai Rains Update: Central Railways suspends services on main line and harbour line