United States: 6 Killed In 130-Vehicle Pileup On Texas Interstate
United States Of America: 130-car pileup leaves 6 killed on icy Texas interstate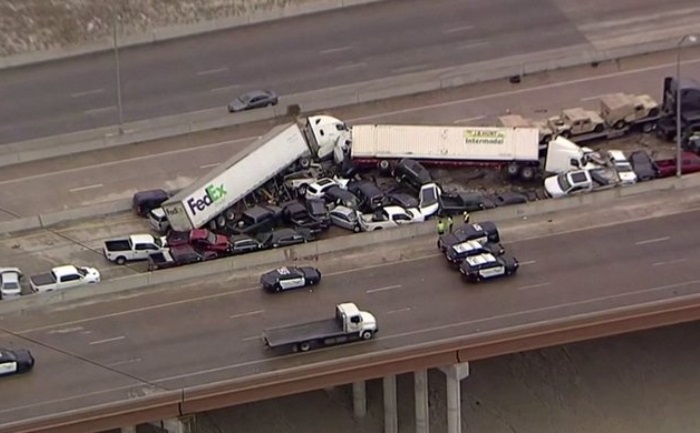 A major pileup on Texas Interstate in the United States Of America left 6 dead and many injured. The shocking incident involving 130 vehicles took place amid a winter storm that dropped freezing rain, sleet and snow on parts of the U.S. The 100 vehicles ranging from small cars, SUVs to 18-wheel trucks crashed into each other, forming a massive pile-up.
The local fire department informed that several people were trapped in the pileup. "MCI alert. 1601 N Freeway. Multiple vehicles involved. Multiple people trapped within the confines of their vehicles and requiring the use of hydraulic rescue equipment to successfully extricate them."
Prayers for the victims of this horrific accident. The extreme weather is only going to get worse in the coming days, please be careful. #Texas pic.twitter.com/1iw5RB7s6X

— Suceli MacLory 🌻 (@Suceli28) February 12, 2021
The fatal crash took place early in the morning around 6 am as the healthcare workers were leaving for work or returning home. Most of the injured were in scrubs and had hospital ID's. At least 65 people sought care at hospitals, with 36 of them taken by ambulance from the crash site, including several with critical injuries
📍Fatal Pileup In Fort Worth, Texas❌ #Texas #FortWorth #usa #accident #fatal #trucking #transportation #pileup #weather pic.twitter.com/oox61qswR3

— 401_da_sarpanch (@401_da_sarpanch) February 11, 2021
A large stretch of the highway was closed in both directions for hours after the crash. The icy roads were considered as the reason behind the pile-up.
Also Read: United States: Donald Trump First President To Be Impeached Twice