8 Dead, 6 Injured In Russian Campus Shooting, Attacker Arrested
At Least 8 Killed in Russian University Shooting While 6 others Injured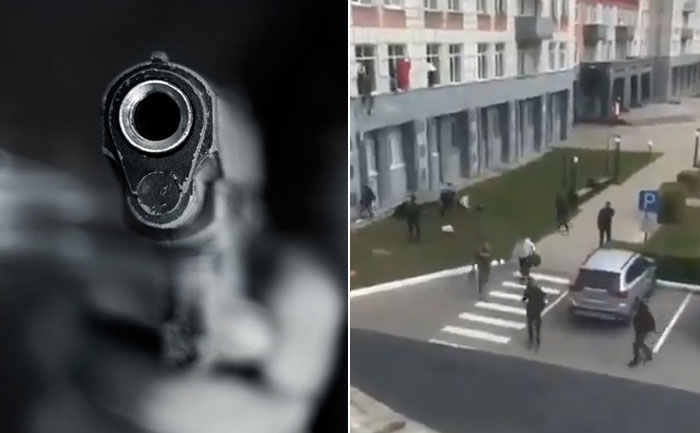 A gunman opened fire at Russia's Perm State University on Monday. Eight people were killed, while six others were injured in the shooting on the campus of the Russian University. This is the second mass shooting at an education facility this year.
Horrifying videos showing students escaping through the second-floor windows at Perm State University. It is in the city of Perm some 1,300 kilometres east of Moscow. The Health Ministry has deployed nine ambulances to the university.
Desperate students jump out of the windows at #PermUniversity after a gunman kills at least 5 people. The gunman is believed to be a male student and has been detained. #Perm #PermUni #PermUniversityShootings #Russia #Moscow pic.twitter.com/jVTBG1oMGH

— Hamza Azhar Salam (@HamzaAzhrSalam) September 20, 2021
A video of an individual in black tactical clothing, including a helmet, carrying a weapon and walking through the campus is viral.
🚨🇷🇺First Video of the Perm University shooter entering the campus.#Perm #PermUniversity https://t.co/A6BChZRz8z pic.twitter.com/wnAH8RryXp

— Terror Alarm (@terror_alarm) September 20, 2021
Initial investigations hinted that the shooter was a student who went on a shooting spree on the university campus. The suspect was neutralised and detained and was reportedly injured in the police action. The motive of the attacker is still unknown.
Indian Embassy in Russia tweeted,
Shocked at horrific attack at Perm State University in Russia; our deep condolences for loss of life & best wishes for early recovery of those injured. Embassy in touch with local authorities, representatives of Indian students. All Indian students safe: Indian Embassy in Russia

— ANI (@ANI) September 20, 2021
No Indian Student has been injured as per the Indian Embassy in Russia.
Also Read: COVID-19 Vaccine: Russia's Sputnik V To Be Tested On 100 Indian Volunteers