Aarna Shah, the newest kid on the block in Maharashtra chess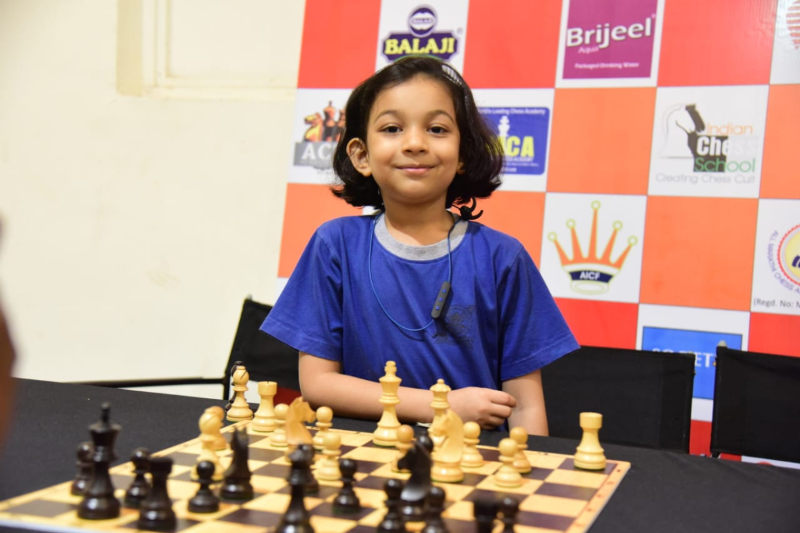 The abundance of talent in chess in Maharashtra's ranks is just incredible. At a very young age, these talents are nurtured and shown the right way before they get to face the greater challenges that lie ahead and make it big in the sport.
The list of young stars like Suhaani Lohia, Kush Bhagat, Advait Bagri and many others now has a new inclusion in the form of Aarna Shah, as young talent in chess continue to rise from the state. It is indeed amazing as to what these young kids have been achieving in the sport and Aarna isn't any different.
The six-year-old first got introduced to the sport after she watched her nephews take up lessons from their coach.
Her mother, in an interaction with The Live Mirror, said, "We stay in a joint family. My nephews who are a year older to her were learning chess and she too wanted to learn it up so that she could play with them. So she started playing and when she did, she showed a lot of passion and enthusiasm for the sport."
"The coach was coming to teach my nephews and she too would sit there.  And she would insist that she too would love to play. The coach took her for the first session and then the coach said that she could learn and this is how she picked it all up. Just because her cousins were learning, she wanted to take it up," she added.
"Since then, it has been over a year that we are a part of the South Mumbai Chess Academy (SMCA). Every Sunday they have internal tournaments where she started doing really well and she just started moving ahead. There came a point when she would checkmate my husband pretty easily!"
At just six, young Aarna has shown signs of tenacity and has gone up the ranks pretty quickly. Her mother recalls her second-place finish in a tournament where she defeated all top players but ended up conceding two matches to average competitors.
"In August this year, there was a LIFL team championship where she was the captain of her team from Cathedral. She scored the maximum points as they secured the first place in the U-6 girls' category. Before that state tournament, MCDCA had organised this district championship where she had come first as well. She missed out on the first place by a slight whisker.
Opening up on where it could have possibly gone wrong for Avni, after six straight wins against top competitors, she said, "Somebody must have told her to write the games which she isn't used to doing. She won her first six matches against all the tough players but then lost to two very average players in her next two games and ended up at the second place."
She nonetheless put all credit down to the guidance by the SMCA for her child's growth in the sport so far.
"In town side, chess is synonymous with the SMCA. They have a very good hold over the sport here with the Valkeshwar side being the best. The coach Viresh has to be credited here. Whatever Aarna is in chess is because of her coach. She is very happy with him. "