AIBA Women's World Boxing championship: Rani, Sonia Simranjit clinch win to maintain India's clean slate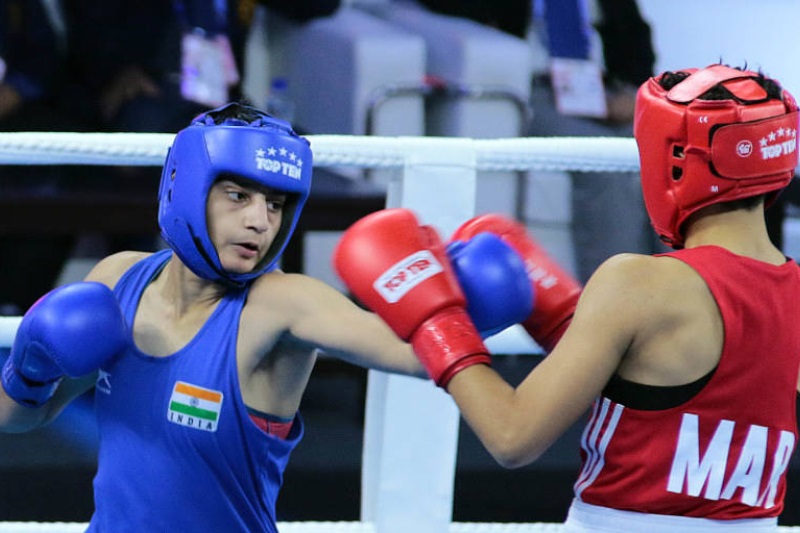 Indian maintained their winning record in the AIBA Women's World Boxing championships through victories earned by Pinki Rani, Sonia and Simranjit Kaur in their respective matches in the pre-quarterfinals on Saturday.
A 5-0 victory came by Sonia's way in the 57 kg category while veterans Pinki and Simranjit won their respective bouts in the 51kg and 67kg categories with identical 4-1 scorelines.
Sarita Devi in the 60kg category and Manish Moun in 54kg had earlier won their matches on Friday to advance to the pre-quarterfinals.
Five-time world champion MC Mary Kom would be one of the five Indians to watch out for on Sunday. Mary would take on Kazakhstan's Aigerim Kessenayeva in the 48kg category.
The first Indian to take the field on Saturday Sonia deployed her a defensive style of play as she was declared the unanimous winner against Morocco's Doaa Toujan. The judges in the bout awarded 9-10 points to both these boxers in all the rounds. Toujan was at the favourable end of a decision by a judge in the second round but Sonia defeated her 29-28 30-27 30-27 30-27 30-27.
Also Read: CoA to Virat Kohli: Conduct yourself like an Indian captain
The 21-year, in an interview after the match, said, "I began boxing in 2011 (at the school level) and this is my first major international event and I am happy to win this bout. It was a tough fight. My style is basically defensive and I stuck to it. My coaches told me to play from a distance, draw her in and punch. That I did." She now faces Stanimira Petrova on Monday.
It was Pinki's turn next to take the field as she beat Armenia's Anush Grigoriyan 30-27 30-27 30-27 30-27 30-27. Pinki had earlier clinched a gold medal at the India Open and bagged a silver medal at the Ahmet Comert tournament. Pinki would next square off against England's Alice Jones on Monday.
"I am an aggressive player but in the first round, I observed my opponent to decide my strategy. My coaches told me that I was playing closer to my opponent. So in the second and third round, I changed my strategy and kept distance. I dodged some of her punches and then returned the punches," she said after her bout.
Simranjit, who had clinched a gold medal at the Ahmet Comert tournament got the better of US's Amelia Moore 30-27 30-27 30-27 27-30 30-27.
The 23-year-old who lost her father in July this year said that she would try and clinch a medal for him.
"My father passed away in July and it was tough for me to be here but it is World Championships. I want to win a medal for him," Simranjit said after the match.
"It was a tough fight. After studying her in the first round, the coaches told me not to go very close. But in the third round, I went all out," she added further.