Aiming for 2019 polls, Modi decides for multiple UP visits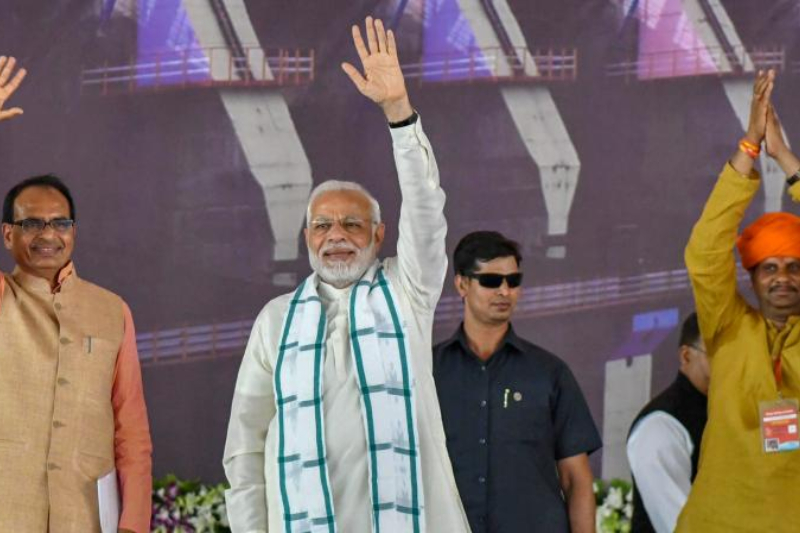 With an aim to retain the power and position in the upcoming 2019 Lok Sabha Elections, Prime Minister Narendra Modi has marked his calender with dates reserved for Uttar Pradesh tour. Modi is likely to visit the state atleast four times and will address public meetings, along with the launch several infrastructure development projects, in a span of just 16 days, that too this month.
Though the Premier had visited the state twice this month, more such visits are in the offering. As opposition are uniting together ahead of polls, PM Modi do not want to lose its base in UP, from where BJP won 72 seats in Lok Sabha polls in 2014. That might be the reason that Modi had chosen UP, rather than Assembly poll-bound states of Madhya Pradesh, Chhattisgarh and Rajasthan.
ALSO READ: Rahul Gandhi meets Muslim intellectuals, assures Congress' victory in 2019
Modi is all set to visit Azamgarh – parliamentary constituency of SP patron Mulayam Singh Yadav – to lay foundation stone for Purvanchal Expressway on July 14, and would address a rally. It is definite that he would attack the SP-BSP alliance, which cost the BJP Lok Sabha seats and one Assembly segment in the bypolls.
After Azamgarh , Modi would be visiting his home constituency Varanasi that evening itself and address an "intellectuals' meet" the same day. party sources say that the Prime Minister would meet the party members there and leave for Mirzapur on July 15 to dedicate the Bansagar irrigation project to people aimed at benefiting farmers. Along with it, he will also inaugurate a bridge across the Ganga in Chunar and lay foundation stones of a medical college and a 229-crore project of widening the Mirzapur-Allahabad national highway, reports IE.
It is suspected that since Mirzapur belongs to Apna Dal (S) patron Anupriya Patel, who has a strong base among the OBCs, BJP is trying to strengthen the bond with the ally. Accordingly, Modi will revisit UP on July 21, and this time the place will be Shahjahanpur where he would address a Kisan Kalyan rally, seen highlighting Centre's decision of increasing the MSP of paddy and other crops.
Ending the month on a high note, Modi is stated to visit the state capital on July 29 to attend events related to infrastructure and projects worth Rs 60,000 crore, likely to be launched.
ALSO READ: PM Modi accuses Cong of neglecting farmers for 70 years