Alpesh Thakor says MLAs have power to do 'Janata Raids'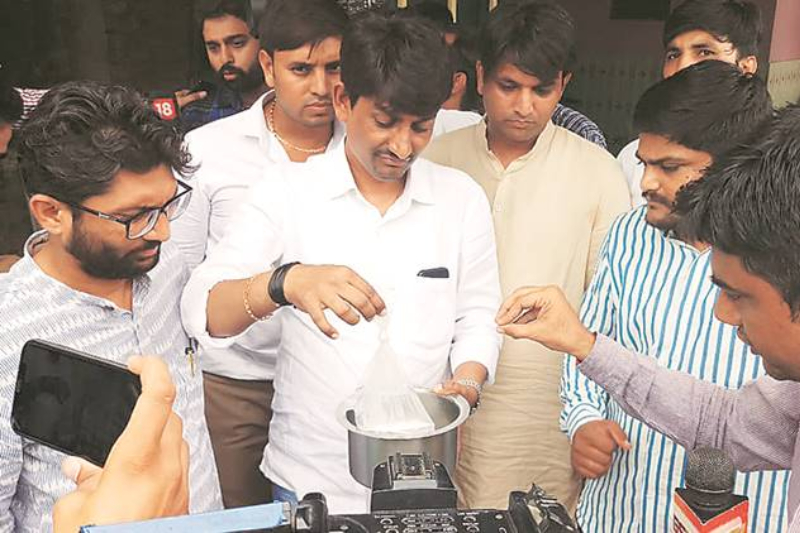 A 'raid' was carried out on the house of a woman at Adivada village in Gandhinagar, claiming to have recovered two pouches of country made liquor from her, calling it irresponsible vigilantism. This so called raid act was conducted by Congress MLA Alpesh Thakor, youth leader Hardik Patel and Independent legislator Jignesh Mevani.
55-year-old Kanchanba Makwana, a widow and mother of four, who accused the three youth leaders and the 15-20 supporters they came with of planting the liquor as per her complaint which is registered by the police an FIR against them under Sections 452 (house trespass), 504 (intentional insult with intent to provoke breach of peace), 193 (false evidence), and 114 (abetment). Makwana lives barely 200 metres from the office of the district superintendent of police.
On July 5, Hardik, Thakor, Mevani and the others had conducted what they called 'Janata Raid' at Makwana's residence, claiming they were acting on "information" that contrymade liquor was sold there. The trio later released a video of the 'raid', and showed two pouches saying these were "recovered during the raid".
Gujarat Minister of State for Home Pradeepsinh Jadeja accused the three leaders of seeking publicity, adding that such 'raids' can lead to serious law and order issues. "The Gujarat government is committed to strict implementation of prohibition. The amount of recovery of illegal liquor proves our commitment to it."
Also Read: The oath that keeps them free: MLA Jignesh Mewani says Saffron party will never get Dalit votes
Gujarat Congress president Amit Chavda claimed the 'raid' was being raised "to intimidate them" and "divert the issue". "Law and order situation is deteriorating in Gujarat and people are agitated over unemployed youths indulging in addiction and other illegitimate activities. These three, Hardik, Alpesh and Jignesh, are social workers. As per my information, they did this 'raid' after getting a complaint from locals… Janata Raid highlights the failure of police and state government."
On whether they should have taken law in their own hands, Chavda said, "Had police been performing its duty properly, such incidents of raid would not have happened. Everybody knows that police take bribe from bootleggers in Gujarat. And this raid is an echo of people's 'aakrosh' (anger)."
After three days the 'raid', Makwana refused to talk to anybody. A neighbour said she didn't want to "weaken" her case by saying anything. Earlier, the 55-year-old had said the 'raid' had left her "terrified".
When contacted over the phone, one of Makwana's sons, Mohabbatsinh, who works as a casual labourer, also refused to talk.
Other neighbours claimed there was a menace of illegal liquor in the area, but refused to identify themselves. Without specifying why, a woman said, "We do not speak with them (Kanchanba and her relatives) as we do not like them."
Also Read: Bhima-Koregaon violence: Pune police may summon Jignesh Mevan