Amarnath Yatra: Over 25,000 personnel of the CRPF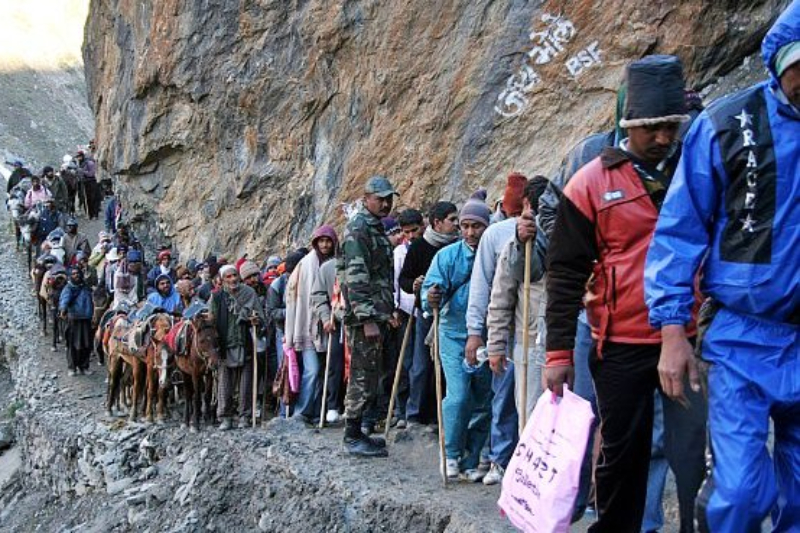 On Thursday, 28th June 2018, the annual Amarnath yatra has begin as per intelligence agencies warning of a terror strike, the Central Reserve Police Force has put in place security measures on a much larger scale than before with biker teams being deployed for the first time to escort yatris' vehicles.
Over 25,000 personnel of the central paramilitary force, in addition to 15,000 personnel of J&K police, are securing the yatra, which witnessed a terror attack on July 10 last year in which 8 pilgrims were killed.
UAVs and CCTVs are being used to keep a step to step movement of everything. Officials said they have identified at least three vulnerable stretches on National Highway 44 where deployment of security personnel has been almost doubled.
While yatri will be tracked and escorted by CRPF and other forces when they will be moving in groups from Jammu to Baltal and Pahalgam. Those coming to Srinagar airport and travelling in private cars or taxis will also be monitored.
A CRPF commandant said, "We have put help-desks at the airport and other places where pilgrims are being informed about the route and the do's and don'ts." Almost 2 lakh pilgrims have already registered this year for the yatra. "The terror threat to yatra is at an all time high… Also, due to the summer, there is rush of tourists in Srinagar, hence security has been increased in the capital as well," said an official.
P P Pauly, commandant of 73rd battalion of CRPF, said they have procured several thousand RFID tags for yatri vehicles. "The RFID tags have cost us Rs 72 per piece and monitoring stations have been set up to track the vehicles. In case a particular vehicle doesn't reach the next RFID… station in the stipulated time, QRTs will… be dispatched," he said.
The first batch of pilgrims was flagged off on Wednesday. Officials said a total of 1,904 pilgrims including 330 women and 30 children are part of this batch.
Also read: Terror threat: Amarnath yatra in fear of 20 militants which have sneak into valley