Terror threat: Amarnath yatra in fear of 20 militants which have sneak into valley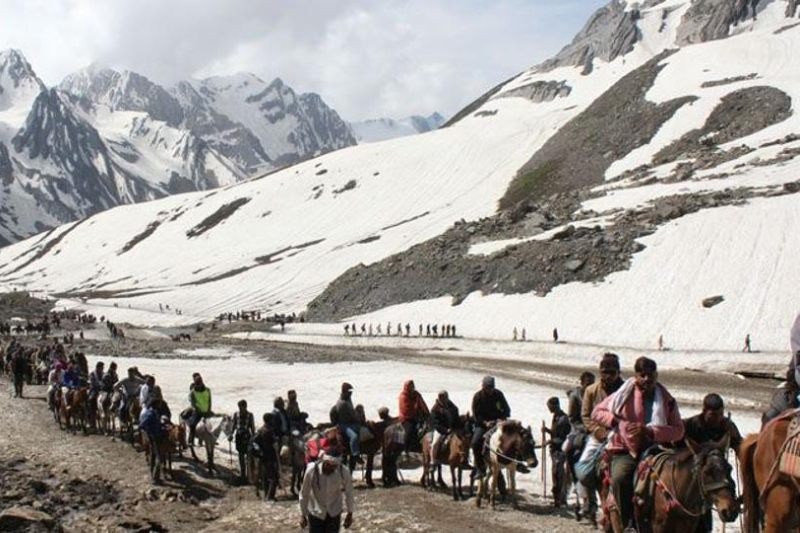 The intelligence agencies have received the information that 20 militants mostly affiliated to Lashkar-e-Taiba (LeT) are looking to carry out terror attacks on the pilgrimage of annual Amarnath Yatra. The alert has been initiated and issued that the terrorists have sneaked into the valley in two groups from Pakistan Occupied Kashmir (PoK). Kangan area is on high alert as the sources believe Let terrorists will target that area.
The security forces are on the high alert following the intelligence report and there is necessary security allocated across the state.
This terror attacks on the yatra occur almost every year where the militants do not leave the chance to attack pilgrims. Last year, around 10 devotees including six women from Gujarat and Mahasrashtra lost their lives. This lives were taken by attacking on the bus with registration number GJ09Z 9976 around 8.20 pm near Khanabal when it was on its way to from Srinagar-Jammu by the Lashkar militants.
The terrorist attack on Amarnath pilgrims, August 1, 2000 in Pahalgam area is never forgetting as the lives of 30 people including porters were taken by the terrorist. Then followed by 2001 when the yatra was targeted when terrorists had struck in the Sheshnag area close to the holy cave of Amarnath, killing 13 people.
As per the observation, every year there are at least three lakh pilgrims visiting the Amarnath shrine. The administration takes all steps to provide facilities for them. Security arrangements for Amarnath Yatra has been reviewed by our Defense Minister Nirmala Sitharaman and Army chief General Bipin Rawat who visited Baltal Base Camp earlier day.
The two-month-long pilgrimage to the 3,880-meter high cave shrine of Amarnath will start off on June 28. Also, Union Home Minister Rajnath Singh is expected to review security arrangements for the forthcoming yatra.