Amarnath Yatra: Amidst Heavy Security, The First Batch Take Off For Their Pilgrim
The First batch for Amarnath Yatra leave, they are surrounded by heavy security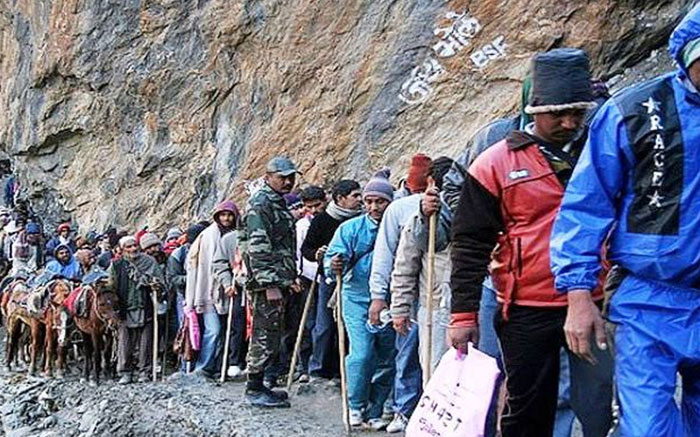 Situated at 3,888 metres above sea-level, the Amarnath shrine houses an ice stalagmite structure. This structure symbolises the mythical powers of Lord Shiva. It is located in the south Kashmir Himalayas. There are two routes to reach the cave, the normal  36-km Pahalgam track in Anantnag district and 14-km Baltal route in Ganderbal district.
Hundreds of Pilgrims, including the Sadhus (Priests) have taken part in the Yatra. The 45-day long sojourn is starting today, 1st of July. It will conclude on 15th of August, coinciding with Raksha Bandhan.
Our Union Home Minister Amit Shah visited Kashmir last year. He had reviewed the security during his journey. This year it is even more tighter than it was last year. In 2017, there was a terrorist attack in Anantnag. Eight Pilgrims were killed as a result.
The Governor of Jammu and Kashmir, Satya Pal Malik gave credit to the local muslims on June 30, for assuring smooth conduction of the Yatra. He hoped that there is a smooth and safe conduction this year as well. Even though the security is handled by the government and the police. The over all conduction of Yatra is ensured by the Local Muslims.
CRPF personnels escorted the vehicles of Pilgrims on Motorcycles and SUV's on the Jammu-Srinagar National Highway via Shopian. DGP Dilbagh Singh reported that the first batch reached the Yatra safely.
Amarnath yatra's leadership is undertaken by a group of Sadhus. They are staying separately in the Ram Temple. It is located in the Purani Mandi area of old city. Their registration for the pilgrimage started this morning.
Also Read:  Amarnath Yatra 2019: Date, Registration, Route, Package, Video & More
.