Amazon Quiz Answers 28 November: Win Rs 15,000
Here are the correct answers to claim Rs 15,000 in Today's Amazon Quiz Contest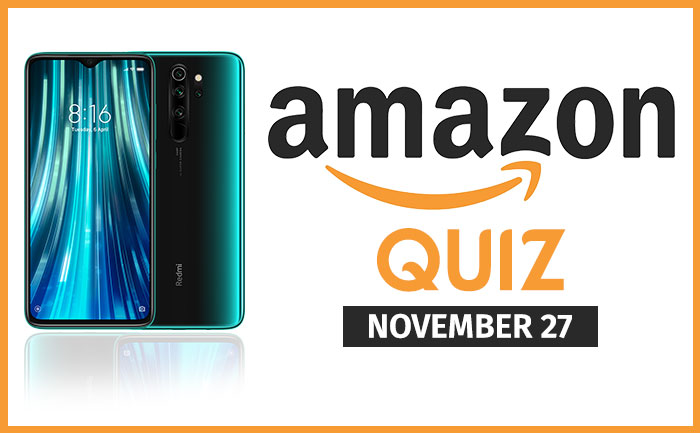 Amazon Quiz Answers Today: Amazon might be an American e-commerce company but it has established its name across the world. In order to grab people's attention in India, Amazon often organises quizzes and offers lucrative deals on a daily basis.
Amazon India has once again back with yet another lucrative Quiz contest. This is not the first time Amazon is offering such massive prize to its customers. However, Today's Amazon Quiz claims to provide Rs 15,000 to lucky winner, heavy discount rates and schemes on plenty of products. To keep its customer hooked on, Amazon has been conducting daily quizzes for scores of brands. These Amazon quizzes especially focus on product trivia and thereby provide multiple opportunities to win products.
Amazon Quizez are basically focused on major categories including electronics, fashion, home appliances and also launches new products in these categories.
In today (28th November)'s Amazon quiz, the e-commerce website is offering ample opportunities to win Rs 15,000. Yes, you can win Rs 15,000 by just answering five questions.
In this article, we will provide each and every answer to Today's Amazon Quiz questions. For the uninitiated, Amazon merely runs a daily quiz on its mobile applications such as Android and iOS. All the questions asked in today's Amazon Quiz are fully based on current affairs and general knowledge. If you managed to answer all five questions correctly, you are likely to emerge as the winner.
Amazon Quiz Answers Today 28 November 2019 – Win Rs 15,000
Question 1. Recently, who became the first Indian bowler to take an international wicket with a pink ball?
Answer: Ishant Sharma
Question 2. Chris Hughes, born on 26th November 1983 co-founded which technology giant along with 4 other Harvard students?
Answer: Facebook
Question 3. A depiction of the Ellora Caves can be found on the reverse side of which bank note in India?
Answer: INR20
Question 4. Fridays for future' is an international movement of school students started by which activist?
Answer: Greta Thunberg
Question 5. As per the title of a popular book and movie, who among these is 'The Man who Knew Infinity'?
Answer: Srinivas Ramanujan
How To Participate In Amazon Quiz 28th November
First of all, you have to download Amazon App from Google Play Store OR Apple Store.
Open Amazon App & Sign In.
Go To Home Menu and scroll down then you will see "Amazon Quiz 28 November" banner, Tap On It.
Now just click on start to play the quiz.
Notably, winners are declared through lucky draw. As per the official website, Amazon will declare the name of today's winner on October 30.
Contest Details & How to enter
1. Today's Amazon Quiz is scheduled to begin from 08:00:01 A.M. (IST) To 19:00:00 P.M. (IST) ("Contest Period")
2. If you want to participate in 27th November Amazon Quiz, you will have to visit and sing in on Amazon App before 12:00 noon.
3. Once you have signed in, you can participate by following the above-mentioned steps where you will have to answer five questions
4. If you managed to answer all 5 questions correctly, you will be entitled to a lucky draw which will be carried out amongst all the participants who have submitted all answers correctly. 
5. Out of them, 1 participant will be chosen as winners by a random draw of lots.
6. The declared winners will be contacted by Amazon via SMS or mail and will be given "JBL Boom Box Speakers " as a prize.