Amazon Quiz Answers Today 27 November 2019 Revealed, Claim Redmi Note 8 Pro
Answer today's Amazon Quiz questions and win 'Redmi Note 8 Pro'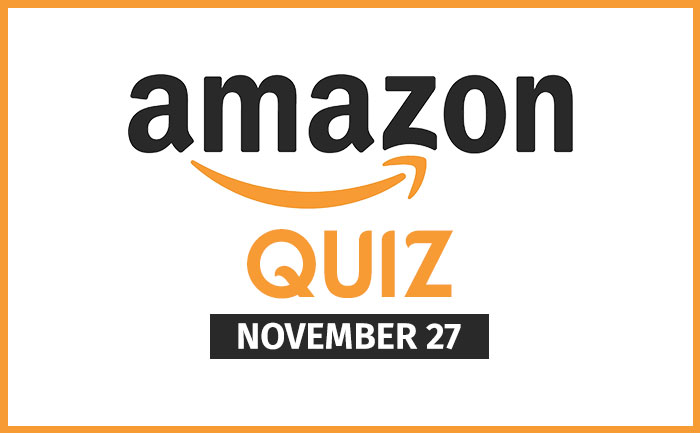 Amazon Quiz Answer Today (November 27): Amazon India is an American e-commerce company but it has cemented its position in India offering lucrative offers to its millions of users. In a competitive world, Amazon does not leave any stone upturned to grab people's attention by organising daily quizzez. In today's quiz, Amazon claims to provide Redmi Note 8 Pro if you manage to answer every question correctly.
In order to be in the news or create buzz for Amazon sale, Amazon is known for conducting quiz for multiple brands such as Redmi, Realme Samsung and others. Amazon daily quiz majorly focuses on popular categories like electronics, fashion, home appliances, and also launches new products in these categories.
Today, Amazon is providing an option to win Redmi Note 8 Pro. If you want to win Redmi Note 8 Pro via Amazon quiz, we have mentioned all the Amazon Daily Quiz below.
You should know that Amazon Quiz begins at 8am everyday. Check out all the answers to Amazon Quiz for Wednesday November 27, 2019. It is to be noted that Amazon Daily Quiz Times Contest can only be played on Amazon App.
How To Take Part In Amazon Daily Quiz 27th November, 2019
If you do not have Amazon App, Download it from Google Play Store OR Apple Store.
After downloading Amazon App, Sign In.
Go to Home page & scroll down until you see "Amazon Quiz 27 November" banner, tap on it.
Now just tap on start tab to play the Amazon Quiz.
Amazon quiz answers for November 27, 2019 to win Redmi Note 8 Pro
Question 1. He was a Chinese-American actor, martial artist and philosopher. He once said 'I fear not the man who has practised 10,000 kicks once, but I fear the man who practised one kick 10,0000 times; He celebrates his birthday today. Who is he?
Jackie Chan
Bruce Lee
Jet Li
Chris Tucker
Answer: Bruce Lee
Question 2. The Rock and Roll hall of fame describes him as 'The greatest instrumentalist in the history of rock music'. He has songs like 'Purple haze' and 'Hey Joe' to his name. He celebrates his birthday today. Who is he?
Jimi Hendrix
Jim Morrison
Eric Clapton
Kurt Cobain
Answer: Jimi Hendrix
Question 3. Who averaged over 50 with the bat in test matches, but played only 1 one-day international; in which he was out for 0? (Hint: He was voted one of Wisden's cricketers of the century?
Clive Lloyd
Don Bradman
Sir Gary Sobers
Ian Botham
Answer: Sir Gary Sobers
Question 4. what famous comic book character is called 'Merc with a Mouth' because of his tendency to joke constantly?
Captain America
Batman
Deadpool
Spider Man
Answer: Deadpool
Question 5. Eritrea, which became the 182nd member of the UN in 1993, is located in which continent?
Antarctica
Africa
Asia
South Africa
Ansewr: Africa