Amazon warehouse workers use Black Friday to protest working conditions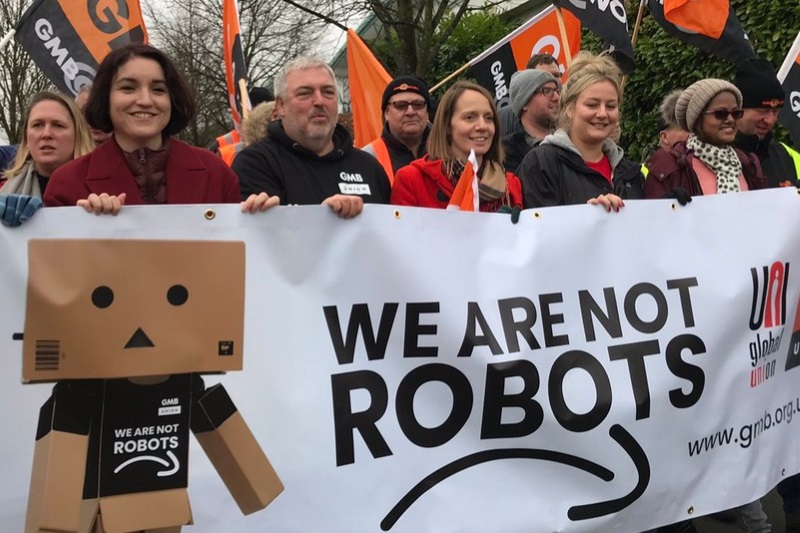 On Friday, as Americans scoured the internet in search of shopping deals, Amazon.com warehouse workers in Europe were protesting against the e-commerce giant. In certain areas, employees walked off the job to highlight what they said were unsafe working conditions and low pay.
The protests struck Amazon across the continent, including in Italy, Germany, Spain and the United Kingdom. In Britain, union officials representing Amazon workers predicted that hundreds would appear at protests throughout the day in five locations.
Tim Roache, general secretary of GMB, said in a statement on the organisation's website, "The conditions our members at Amazon are working under are frankly inhuman." He also added, "They are breaking bones, being knocked unconscious and being taken away in ambulances."
Earlier this year, according to the UK-based group said a Freedom of Information request aimed at first-respondents showed that ambulances had responded to calls for help at Amazon facilities roughly 600 times over the past three years.
Notably, though Amazon didn't immediately respond to a request for comment but told the Guardian: "Our European Fulfilment Network is fully operational and we continue to focus on delivering for our customers and reports to the contrary are simply wrong."
For the records, Amazon chief executive Jeff Bezos also owns The Washington Post.
In Germany, more than 600 workers have gone on strike, where workers earn a starting salary of about $12 an hour, according to Reuters. One employee from Spain told The Associated Press that the walkout was deliberately timed for 'one of the days that Amazon has most sales'.
Eduardo Hernandez said in an interview with the AP, "These are days when we can hurt more and make ourselves be heard because the company has not listened to us."
Last May, Spanish employees walked out, when workers at an Amazon facility near Madrid went on strike during the company's annual Prime Day sales event.
as workers and supporters of the strike used the hashtag #AmazonWeAreNotRobots to spread the campaign, thus, Friday's real-world demonstrations quickly spread across the internet.
In a statement to Mashable, Amazon defended its workforce record.
The statement said, "Amazon has invested over 27 billion euros and created over 75,000 permanent jobs across Europe since 2010." It also added, "These are good jobs with highly competitive pay, full benefits, and innovative training programs like Career Choice that pre-pays 95% of tuition for associates. We provide safe and positive working conditions, and encourage anyone to come see for themselves by taking a tour at one of our fulfilment centres."
Notably, the Black Friday shopping frenzy is closely linked to Thanksgiving in the United States, retailers have increasingly begun to offer the same deep discounts to international audiences.
Accordingly. Black Friday deals are expected to produce an additional $2 billion of revenue for retailers in Europe, some analysts say.
The Amazon labourers walked out aiming at disrupting that spending spree, and forcing the online platform to make concessions to its workforce.
The action is taken, as the company faces heightened scrutiny over its decision to locate two new US offices in northern Virginia and New York after encouraging dozens of metropolitan leaders to compete with one another for the company's favour.
However, critics have called slammed this move and called it a publicity stunt benefiting two regions of the US that are already economically successful, not to mention one of the world's largest e-commerce companies.
Also read: Google dedicates doodle to 'Father of Deaf' on his 306th Birthday