AIBA Women's Boxing Championship: Mary Kom defeats Hanna Okhota to win 6th World title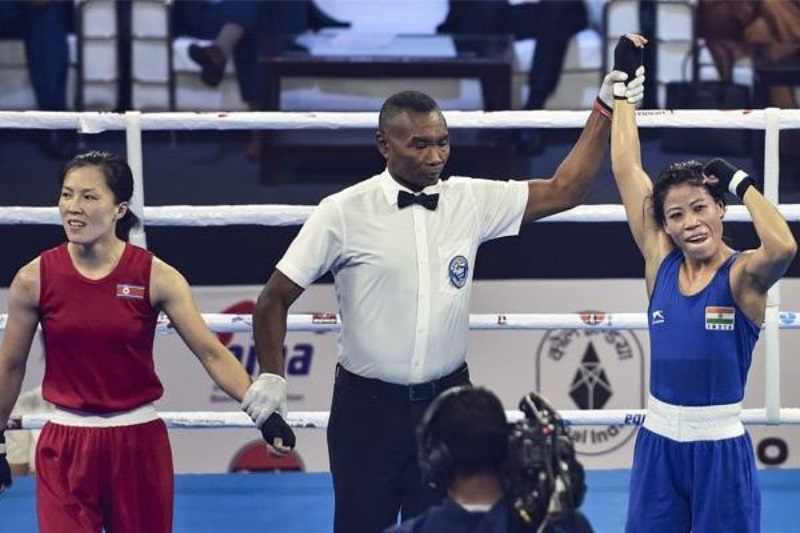 Mary Kom, an Indian boxing legend has registered one more record on her name by winning a sixth gold medal at World Boxing Championship at New Delhi. On Sunday, Marry Kom defeated Hanna Okhota belonging to Ukraine at Boxing Championship.
The 35-year-old Marry Kom won via unanimous decision in 48kg light flyweight class to equal the record of Cuban legend Felix Savon as the joint most successful boxer (Men and Women) in the history of World Championships.
After winning 6th Gold medal she said, "First of all, I would like to thank, all my friends. They came to see my play. Especially for me, in the contingent, to cheer for us. Today, I am a little bit emotional, since I have been feeling there is no category in the Olympic Games. Because of your love and support, I am able to qualify for 2020 Tokyo Olympics. Four years, ago, I was not able to qualify. I am still suffering from making the weight."
"Thank you for your love and support. I don't have anything to give, except for a gold in the country. I am still dreaming about going to dream about winning the gold in 2020," she added.
An absolute champion. Mary Kom beats Ukraine's Hanna Okhata 5-0 to win her sixth World Championships gold! pic.twitter.com/pNLgwJtWu2

— Gaurav Bhatt (@CultOfGaurav) November 24, 2018
Mary Kom won her first Gold Medal 16-year back
It is to be noted that, Mary Kom won her first gold medal 16 year-ago,  now she has won her 6th, at the age of 35.
Mary Kom's team of support! ??@MangteC celebrates her SF win with her team of coaches (L-R: physio, coaches Chhote Lal and Ali Qamar.) Indeed a proud moment for all of them to attain this success! #PunchMeinHainDum #AIBA #boxing pic.twitter.com/v8xnWZmvFO

— Boxing Federation (@BFI_official) November 22, 2018
Mary Kom had won gold medals in 2002, 2005, 2006, 2008 and 2010 editions of the Women's World Boxing Championship and was tied at five gold medals with Katie Taylor of Ireland.
Having won this gold medal, Mary Kom also matched Cuba's Felix Savon as the joint most successful boxer — men and women — in the World Championships history.
It is to be noted that,  Felix Savon also won three Olympic gold medals during his illustrious career. He has won six gold and one silver in heavyweight in the World Championships between 1986 and 1989.
Also read: AIBA Women's Boxing Championship: Mary Kom confident of winning final