Asian Games gold-medallist Amit Panghal nominated for Arjuna Awrd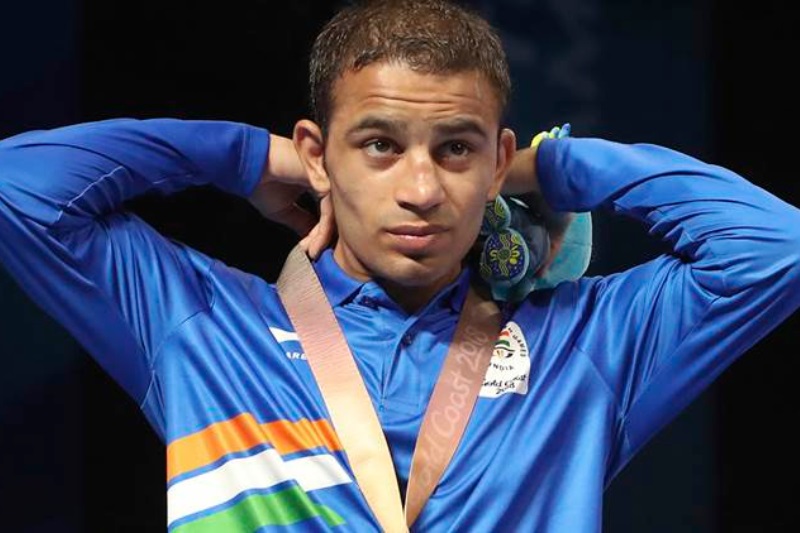 Asian Games gold-medallist Amit Panghal has been nominated for this year's Arjuna Awards by the Boxing Federation of India, reported PTI on Tuesday.
2017 Asian Championships silver medallist Sonia Lather and World Championships bronze medallist Gaurav Bhiduri are other two boxers to have been nominated for India's second highest sporting award.
"I am honoured to be nominated, I can't describe how happy I am. My medal is talking for me and that is what I have always wanted," said Panghal as quoted by the news agency.
Amit won the gold in the light flyweight (49kg) category after defeating Olympic Champion Hasanboy Dusmatov in the final. He is also the eighth Indian boxer to win the yellow metal in the inter-continental event.
Also Read: Vinesh Phogat reckons Indian coaches aren't good enough to produce Olympic winners
The nomination, however, looked uncertain after reports of a failed doping test in 2012 emerged up. Amit had served a one-year ban for the failed test. But because he was a first-time offender and it had happened at the youth level, the federation decided to send his name to the Sports and Youth Affairs Ministry.
"It happened when I was just a kid who knew nothing," says Panghal. "I was a teenager and had come to my village after being diagnosed with chicken pox, there was probably something in the medicine that the doctor gave me."
But having returned to resurrect his career, Panghal have jumped high above all the other Indian boxers. He won the bronze in the Asian Championships in 2017 and followed it up with another silver at the Commonwealth Games in Gold Coast.
Amit also won the gold at the India Open in Delhi and followed it up with another gold at the prestigious Strandja Memorial tournament in Bulgaria.
"It has been a dream, I am still living it. Hopefully, the Arjuna award will be the icing on the cake," he signed off.
Also Read: I dream to see an Indian athlete win an Olympic gold – Milkha Singh
Image Source: The Indian Express