Patriots cannot walk with separatists, indicates Amit Shah at Jammu rally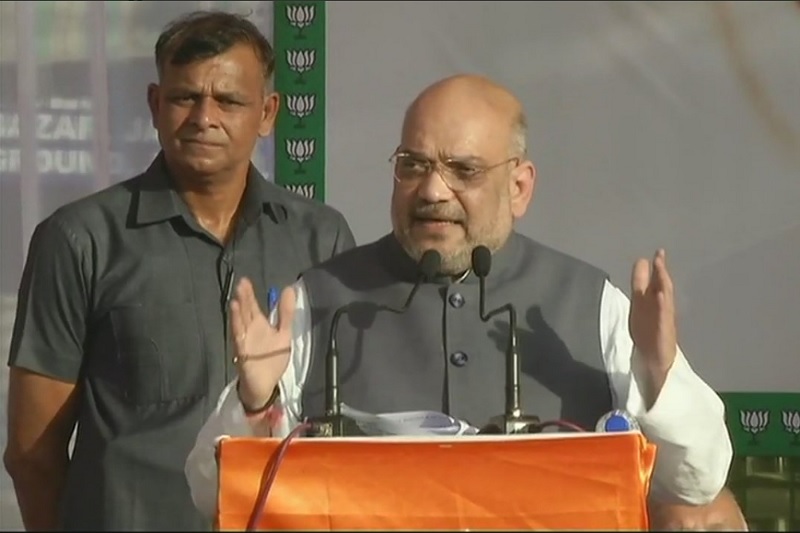 Bharatiya Janata Party president Amit Shah was in Jammu today for the first time after the imposition of Governor's rule in Jammu and Kashmir, to mark the death anniversary of Dr. Shyama Prasad Mukherjee. Making the stage as opportunity, Shah targeted at Congress and former chief minister Mehbooba Mufti for instability in the valley.
Speaking at the rally he said that it is because of Dr. Shyama Prasad Mukherjee's  sacrifice that Jammu and Kashmir is still with India. However he alleged biased politics of Mufti which forced the BJP to break the alliance with People's Democratic Party after four years.
Stating the collapse of the 'Common Minimum Programme', on which the alliance between the BJP and PDP was done four years ago, Shah said that the state government failed to fulfill the promise, which was based on three major points – balanced development of Kashmir and Jammu region, peace in the valley, and help terrorism end. However, not a single point agenda was fulfilled.
Shah said, "It doesn't matter to us if we are in power or not. For us, J&K's development and its safety is more important." Shah went on adding that it BJP's patriotism can never be challenged as it is only the party in India who chants 'Bharat Mata ki Jai', even if they loose power.
"Last year when I came to J&K, we were in a coalition government. Today, President's rule is imposed here since we took back our support. Political parties regret when their govt falls but BJP is the only party which raised slogans of 'Bharat Mata ki Jai'. It shows BJP's patriotism."
Targeting Congress leader Saifuddin Soz for his controversial comments on Kashmir's independence, Shah reinstated that BJP Jammu and Kashmir is an integral part of India and they will not let anyone separate it. Also, he challenged Congress President Rahul Gandhi to take action against his senior leader Ghulam Nabi Azad on his 'anti-national' comments.
Shah stated, "Senior Congress leader Ghulam Nabi Azad make statements about Kashmir, which I cannot even repeat, but within minutes Laskar-e-Taiba supports it.  Rahul Gandhi should speak what is the relation with Laskar-e-Taiba."
Also, Shah recalled that Prime Minister Narendra Modi has sanctioned Rs 80,000 crores for the development of the state. However, it was not achieved and it is the time the people ask Mufti what she did with the amount and why balanced development did not take place in the state.
Condemning the recent killings of 44 Rashtriya Rifles rifleman Aiurangzeb and The Rising Kashmir editor-in-chief Shujaat Bukhari, just days ago before Eid, by the terrorists, Shah question Mufti's ensuring peace in the state. Shah proceeded with allegations on PDP saying that she had given shelter to the stonepelters, who are attacking the Indian security forces.
Recalling the sacrifice of late Dr. Shyama Prasad Mukherjee, the BJP president said that it is due to the sacrifice of the late visionary that Jammu and Kashmir is still with India. He said, "It is because of Dr. Shyama Prasad Mukherjee's sacrifice that Jammu and Kashmir is with India."
The  BJP president broke the alliance with Mufti's PDP on June 19, citing lack of development reasons in the Jammu and Lakakh region and the rise in terrorist activities in the valley. Governor's rule was imposed a day later.