Sushant Singh Rajput case: Amit Shah forwards letter to Pappu Yadav's demand for CBI probe
Home Minister Amit Shah has forwarded the letter to ex-MP Pappu Yadav's request for a CBI inquiry in Sushant Singh Rajput's suicide case.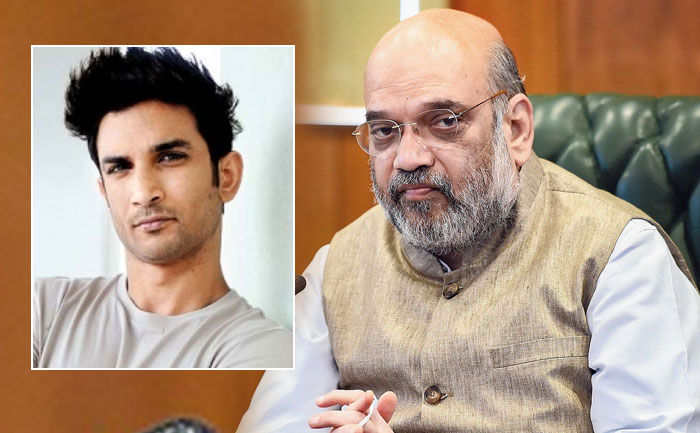 Sushant Singh Rajput's ultimate demise left the whole nation in shock. His fans have been demanding a Central Bureau of Investigation (CBI) inquiry seeking justice for the actor. In fact, many celebrities, politicians have also been demanding a CBI probe.
On Tuesday, Bihar's Jan Adhikar Party president Pappu Yadav tweeted a letter sent to him by Home Minister Amit Shah on his demand for a CBI inquiry in Sushant Singh Rajput's suicide case.
Sharing the copy of the letter to his Twitter handle, he wrote in Hindi, "अमित शाह जी आप चाहें तो एक मिनट में सुशांत मामले की CBI जांच हो सकती है। इसे टालें नहीं!
बिहार के गौरव फ़िल्म अभिनेता सुशांत सिंह राजपूत जी की संदिग्ध मृत्यु की CBI जांच के लिए केंद्रीय गृह मंत्री जी को पत्र लिख आग्रह किया था।
उन्होंने कार्रवाई के लिए पत्र अग्रसारित कर दिया है।
(Amit Shah ji, if you want, there can be a CBI inquiry in Sushant case in a minute. Do not avoid it! A letter was requested to the Union Home Minister for a CBI inquiry into the suspicious death of Gaurav film actor Sushant Singh Rajput ji of Bihar. He has forwarded the letter for action.)
Check out Pappu Yadav's tweet here:
अमित शाह जी आप चाहें तो एक मिनट में सुशांत मामले की CBI जांच हो सकती है। इसे टालें नहीं!

बिहार के गौरव फ़िल्म अभिनेता सुशांत सिंह राजपूत जी की संदिग्ध मृत्यु की CBI जांच के लिए केंद्रीय गृह मंत्री जी को पत्र लिख आग्रह किया था।

उन्होंने कार्रवाई के लिए पत्र अग्रसारित कर दिया है। pic.twitter.com/MWsFBFNN8p

— Sewak Pappu Yadav (@pappuyadavjapl) July 14, 2020
On Wednesday, Rajya Sabha MP/BJP leader Subramanian Swamy wrote a letter to Prime Minister Narendra Modi urging CBI investigation in the matter.
SSR passed away on June 14, To date, Mumbai Police has questioned a total of 30 people in the case, including family, rumored girlfriend Rhea Chakraborty, Mukesh Chhabra, director Sanjay Leela Bhansali, and more.
Stay tuned to The Live Mirror for more updates.
ALSO READ: Sushant Singh Rajput Death Case: Salman Khan Will Not Be Interrogated By Mumbai Police