Andhra Pradesh: 7 dead in fire at coronavirus facility in Vijayawada
7 killed in fire at hotel being used as Covid-19 facility in Vijayawada; CM orders probe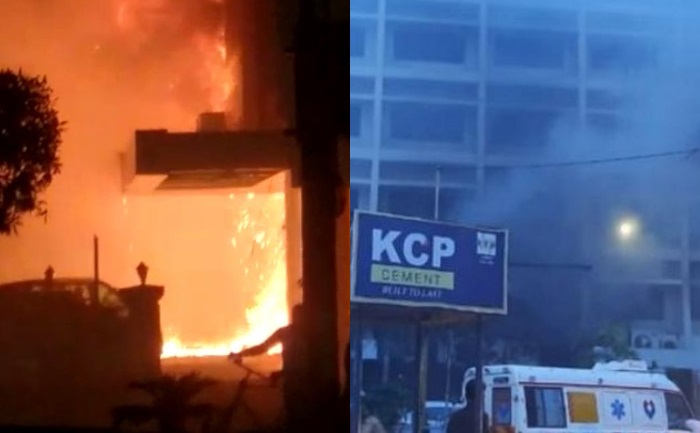 Seven people were killed in a fire at a Covid-19 facility, in Andhra Pradesh's Vijayawada. Over 20 others were rescued after a massive fire broke out at the Covid-19 facility on Sunday morning. The rescued have been taken to a nearby hospital.
#UPDATE – Seven people have lost their lives and 30 have been rescued: Vijaywada Police https://t.co/9hs9dow2mV

— ANI (@ANI) August 9, 2020
Many fire tenders have been rushed to the spot to douse the blaze. Several people are believed to be trapped at the hotel, that was used as the Covid-19 care centre. Rescue operations are underway.
"The incident took place around 5 am. Around 22 patients are being treated in the hospital. We are evacuating the entire building. The reason of fire appears to be a short circuit, as per the preliminary report. But we will have to ascertain." Mohammad Imtiaz, Krishna's district collector, was quoted as saying by ANI.
Prime Minister Narendra Modi offered condolences to the families of the deceased. he tweeted,
Anguished by the fire at a Covid Centre in Vijayawada. My thoughts are with those who have lost their loved ones. I pray that the injured recover as soon as possible. Discussed the prevailing situation with AP CM @ysjagan Ji and assured all possible support.

— Narendra Modi (@narendramodi) August 9, 2020
Andhra Pradesh CM YS Jagan Mohan Reddy has expressed shock over the fire accident at the Covid-19 facility.
CM Jagan Reddy has directed the authorities to conduct an in-depth inquiry into the fire accident and report about the probe to him.
Also Read: Andhra Pradesh: Fire breaks out at Visakhapatnam's pharma city