Andhra Pradesh: Fire breaks out at Visakhapatnam's pharma city
Andhra Pradesh: Huge explosion in chemical plant Visakha Solvents in Ramky Pharma City; 4 injured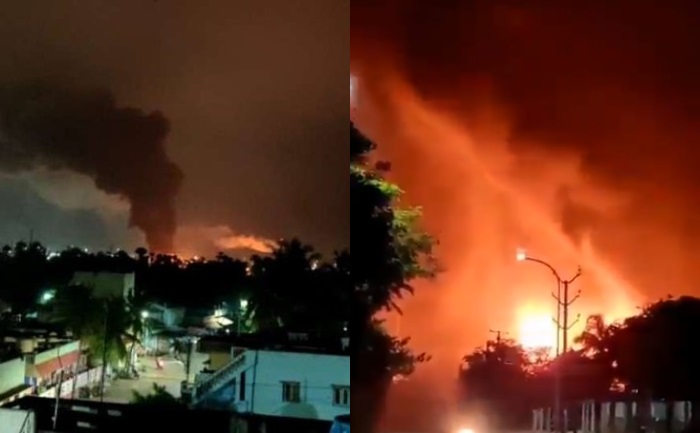 A huge explosion took place in Visakha Solvents a chemical plant at Visakhapatnam Ramky Pharma City. Locals said they heard around a dozen explosions. Ramky CETP Solvents's building in Pharma City blew up due to unknown reasons. The explosions were followed by a massive fire. 12 fire tenders were deployed to douse the flames.
A huge explosion took place at Vizag's Paravada in #Visakhapatnam Ramky Pharma City at around 11PM (Monday). Locals say they have heard repeated explosions & the flames are seen from 2 to 3 kms far.
Explosion took place in #VisakhaSolventsLimited in Pharma City.#VizagBlast pic.twitter.com/wjuz6NP7bq

— Shivani Sharma (@Shivani2297) July 14, 2020
Four workers are said to be injured one of them received severe burn injuries. He is presently shifted to a private hospital at Gajuwaka.
Fire Accident In #Visakhapatnam#Paravada #AndhraPradesh#VisakhaSolventsLimited#PharmaIndustry #Vizag pic.twitter.com/pmlRORVVjQ

— P.V.S.N RAJU ™ (@PVSNRAJU12345) July 13, 2020
"Fire reported from Parwada in Vizag. Citizens need not worry, SHO Parwada, ACP and DCP on site along with firefighters. Visakhapatnam CP, RK Meena is personally monitoring the situation. The operation to douse the fire is on," the state government said in a statement.
12 fire tenders struggled for four hours to bring the flames under control using chemical foam and water.
The incident triggered panic among the residents in the Paravada area. This incident came just a couple of months after the styrene vapour leak in the LG Polymers plant in the region. The massive gas leak had killed 14 people and sent several others to the emergency in the wee hours of the morning.
Also Read: Vizag Gas Leak: CEO and 2 Directors of LG Polymers among 12 Arrested