When Anupam Kher Broke The Barricades To Meet Michael Jackson -View 
Veteran Actor Of Bollywood, Anupam Kher Confesses To Have Broken The Barricades To Meet Michael Jackson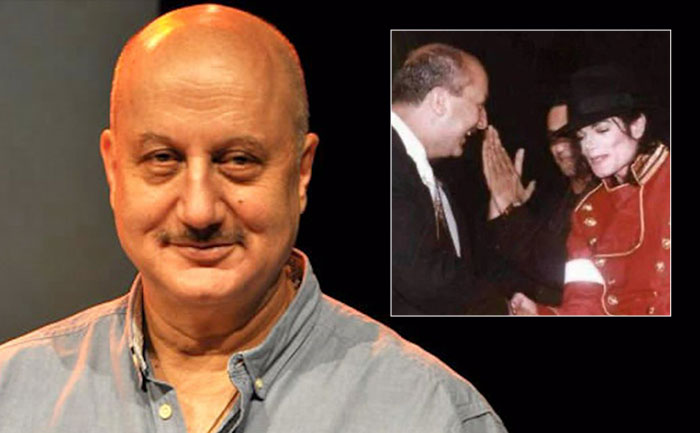 Bollywood celebrities enjoys a great fan following and all credits to their films and television projects. Celebs are often seen getting mobbed by their die hard fans at the public places, But, did you known that celebs themselves are also fans of iconic stars of all time? The veteran actor, Anupam Kher confesses to have broken the barricades in order to shake hands with legendary Micheal Jackson.
Recalling the luckiest moment of his life, Micheal Jackson took to his Instagram handle and shared the picture, where he can be seen shaking hands with the legend. In the caption of his post, her wrote, "Story of this picture!! When Michael Jackson visited India in 1996 a group of selected people were invited to meet him exclusively at Oberoi hotel gardens. I was also the lucky one. Thanks to Bharat Bhai Shah. There was a small stage set up in the garden with a barricade for the special guests. MJ walked down from his suite and stood on the improvised stage with his bodyguards".
"There was silence and sense of awe among the selected guests. I was looking at this magician who had enthralled and hypnotised the entire universe with his electrifying performances. He was just few feet away from me. I wanted to capture this moment. So I broke the barricade jumped on the stage and almost hugged MJ. The bodyguards rushed towards me and before they could pick me up bodily Bharat Bhai Shah in panic introduced me to Michael Jackson as the biggest actor in India. He immediately and politely bent down and shook a jubilant me's hands. And my history was captured in this picture,"' further read the caption of his post.
View this post on Instagram
The American singer and the songwriter, Micheal Jackson was a true legend and he has millions of fans from all across the world. There is no denying to the fact that he still leaves in the hearts of millions of people.
For more such updates, stay hooked on to The Live Mirror.
Also Read: Anupam Kher Wishes Wife Kirron Kher On Her Birthday, Says, 'Miss You, Will Meet You Soon'