Anupam Kher lambastes Naseeruddin Shah; asks how much more freedom do you want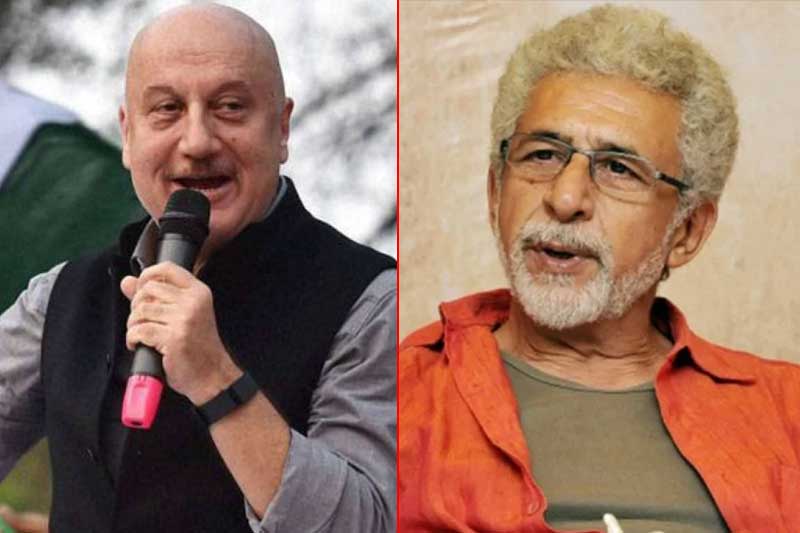 Anupam Kher lambasted Naseeruddin Shah over his criticism of the law-and-order situation under the Narendra Modi government. The fellow actor Naseeruddin Shah on Saturday wondered how much more freedom Shah expected to have in a country where one could even "abuse" the army and "pelt stones" at soldiers.
Talking to the reporters, Anupam Kher said, "There's so much freedom in the country that you can abuse the army, badmouth the air chief and pelt stones at soldiers. How much more freedom do you need in a country? He said what he felt like, that doesn't mean it's the truth."
It is to be noted that Anupam Kher was referring to the opposition questioning the authenticity of the cross-border surgical strikes, Congress leader Veerappa Moily calling the Air Force chief a "liar" for appreciating the Rafale verdict and soliders being targeted by stone-throwers in Kashmir.
Meanwhile, Naseeruddin Shah found himself embroiled in a controversy over his remarks in reference to the Bulandshahr violence where a policeman was killed in mob violence over alleged cow slaughter earlier this month.
He had said, "In many areas we are witnessing that the death of a cow has more significance than that of a police officer. I feel anxious thinking about my children. Because they don't have a religion… tomorrow if a mob surrounds them and asks 'are you a Hindu or a Muslim?' they will have no answer. It worries me because I don't see the situation improving anytime soon. These matters don't scare me, they make me angry."
Shah's remark on the country's law-and-order situation spurred criticism from right-wing groups, with many asking him to leave the country if he was uncomfortable staying here.
Also Read: Naseeruddin Shah fears for his children in today's India, Watch