Anupam Kher shares a health update on his mom, says, 'we told her you have an infection, not COVID-19'
Anupam Kher, in a video, states that his mother has been told that she has 'an infection and not Coronavirus'; Watch video.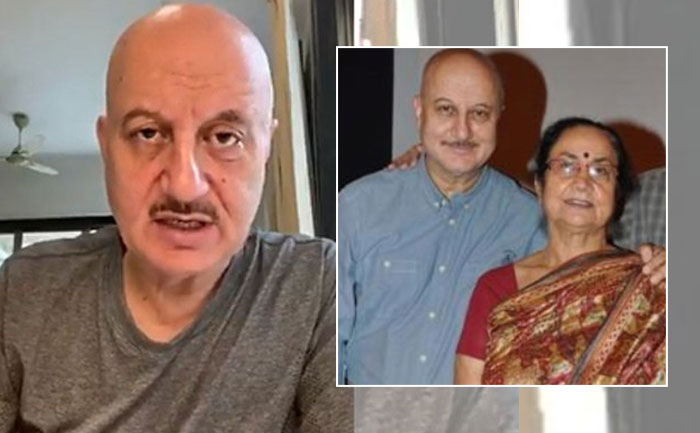 On July 12, 2020, Anupam Kher took to his social media and announced that his mother Dulari, his brother Raju Kher and his wife, as well as his niece, have tested COVID-19 positive. However, the actor tested negative.
Now, the actor shared a health update on his mom, who is currently admitted to the isolation ward of Kokilaben Hospital, Mumbai. Whereas,  Anupam's brother and his wife and daughter are in quarantine at their home.
Kher shared a video on his social media and said that his mom Dulari has been told she has some infection and not coronavirus. In the video, Kher stated, "Though we told her you have an infection, you don't have COVID. But she understands because she is surrounded by people so she knows it." 
The 'Kuch Kuch Hota Hai' actor also said that his mother is trying to keep her spirits high even at the hospital and is constantly in touch with the relatives over the phone, Not just relatives, his mom has also been checking on the actor's friends like Anil Kapoor and Satish Kaushik among others.
He captioned the video, "Random thoughts. Felt like sharing with you what I am feeling these days. Mom is trying to be her spirited self in the hospital although is not feeling hungry. Raju, Reema & Vrinda are home quarantined. Parents are so selfless. One must verbally tell them again and again that you love them. For them and for your own self! #DulariRocks #Love #Selfless #Parents #RandomThoughts".
Take a look at Anupam Kher's video here:
Lastly, the 65-year-old actor urged people to stay at home and maintain social distancing.
ALSO READ: COVID-19 India: Coronavirus Cases Rise To 9.3 Lakh, Death Toll At 24,309