Anushka Sharma shares cutest video of Virat Kohli from Bhutan vacation
Virat and Anushka are enjoying their vacation in Bhutan and this recent video is more than sweet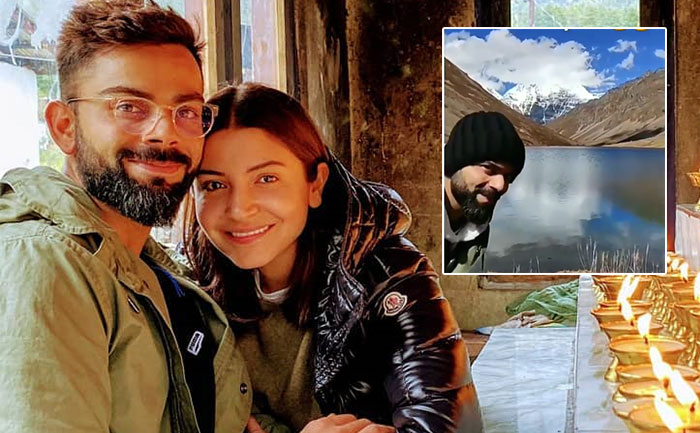 Anushka Sharma and Virat Kohli are currently vacationing in Bhutan. The most loved couple were spotted in Bhutan some days ago. The adorable couple will be completing their 2 years of togetherness. The pictures and videos of the married couple makes their fans drooling over it all the time. Lately, their snaps from the land of Bhutan is heart-melting.
Apparently, King Kohli and Anushka Sharma are vacationing in Bhutan. Sometime ago today, Virat shared pictures with Anushka on his Instagram handle. The cricketer captioned, "When you get a chance to come close to the beauty of nature, thoughts cease and you become one with the moment and merge with the divine energy. So grateful." Check out the photo below.
Moreover, Anushka wasn't far behind in portraying her love for Virat. She took to Instagram stories that had everyone's attention. Especially, for one video where she shared a particular video where Virat appears out of no where as she was appreciating nature at its best. She captioned, "Appreciating God's own creations, including the one that showed up last." Have a look at the video here.
Apart from this, Virat Kohli recently turned 31 on 5th November 2019. His wife Anushka Sharma shared some cutest picture with adorable caption. The two keep posting pictures on their social media that speaks volumes of love and make their fans excite. The couple's constant updates with pictures and videos let their fans know of their growing love that continues to blossom with the passing of time. Have a look at some latest pictures while they are in Bhutan.
Also Read: Anushka Sharma And Husband Virat Kohli Look Happy In Bhutan For Holidays