World's deadliest attack helicopter Apache inducted into Indian Air Force
Indian Air Force inducts 8 new Apache attack choppers with a water gun salute at Pathankot Air Base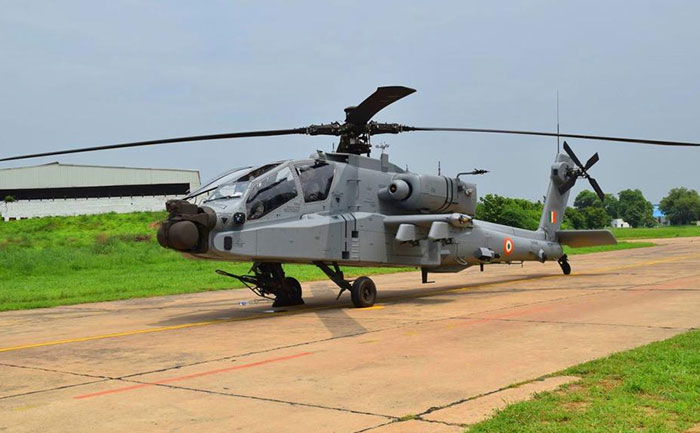 Eight United States attack helicopters Apache was inducted in the Indian Air Force today. The deadliest attack helicopters US-made Apache AH-64E were inducted in the IAF at the Pathankot Air Base. The ceremony had Air Force Chief Marshall BS Dhanoa as the chief guest.
IAF chief Dhanoa said, "The Apache helicopters have been modified according to the needs of the IAF. We are very happy with the scheduled delivery of the helicopters on time."
#Punjab: IAF Chief BS Dhanoa arrives at the Pathankot Air Base where Apache helicopter of the Indian Air Force are to be inducted into IAF today. pic.twitter.com/U6GrwjuKCO

— ANI (@ANI) September 3, 2019
The Air Force chief and Western Air Commander Air Marshal R Nambiar performed a 'pooja' ceremony before the induction at the Pathankot airbase. The Apache attack helicopters were given a water salute at the airbase ahead of the induction.
#WATCH Punjab: The Apache chopper receives water cannon salute, before induction at the Pathankot Air Base. pic.twitter.com/YNT49rjr3B

— ANI (@ANI) September 3, 2019
India is the 14th nation in the world to be operating the Apache attack helicopters. The AH-64E Apache is one of the world's most advanced multi-role combat helicopters and is flown by the US Army.
IAF spokesperson Anupam Banerjee said, "It is a ceremonial induction of the aircraft into IAF. As of now, we have 8 aircraft. 22 aircraft will come in phased manner and all will be inducted into the IAF. We had attack helicopters earlier, but this aircraft brings in lethal firepower with great accuracy."
Senior IAF officials revealed that the addition of the war machines has significantly enhanced India's combat capabilities.
Also Read: The Kargil Girl first look: Janhvi Kapoor set to become India's first IAF officer