Apex Legends leak reveals Santa Claus Caustic skin & holiday collection event
Apex Legends dataminer @iLootGames took to Twitter to share the images and videos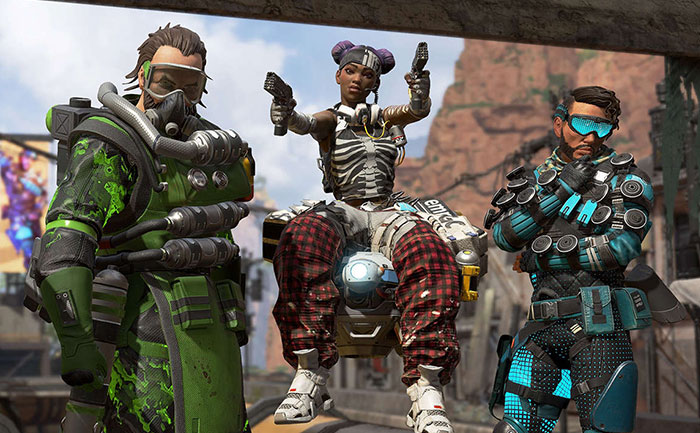 Apex Legends dataminer @iLootGames has unearthed new images of holiday skins and a possible upcoming holiday event. If this tip turns out to be accurate it won't be the first holiday collection event for Apex Legends. The game earlier celebrated Halloween in a similar fashion. @iLootGames took to Twitter to unveil images and videos of new holiday skins. There were also hints of an upcoming holiday collection event.
New video out for you guys! Go check it out and if you aren't already subbed hit that sub button! https://t.co/sNj42yNERZ
<3 pic.twitter.com/h5uJweVl4Y

— iLootGames (@iLootGames) December 4, 2019
Christmas Apex Legends Holiday Skins
The event will be called "Holo-Day" according to the leak. In addition to an LTM based on the World's Edge train, it will also be bringing a collection event along with a ton of new skins. The event banner shared by iLootGames reveals new skins as Rudolph Octane, Elf Wattson, Jolly Old St. Pathfinder and Mirage as a Nutcracker.
event banner pic.twitter.com/dENn3VPixy

— iLootGames (@iLootGames) December 3, 2019
However, the most attention grabbing skin in the reveal has to be the Santa Caustic. In the hours since its reveal, the skin has been getting a lot of love from the fans.
Who is ready for santa caustic?! lmao pic.twitter.com/TR7d6oKOIS

— iLootGames (@iLootGames) December 3, 2019
Bangalore also got in the spirit of the holiday season with an eccentric holiday skin. The holiday skin looks like a mashup of a nutcracker hat with white armor. It also features an angry-looking snowman in the middle. In addition, fans also got a sneak peek at some of the upcoming weapon skins which include a new R-301 skin.
There is no official word as of yet to when the event will be taking place. However, owing to the strong Christmas vibes it is safe to say that the Apex Legends holiday event will kick off sometime in mid-December.
ALSO READ: Apex Legends Black Friday Sale Disappointed Players