Arijit Singh trends on Twitter after K-Pop singer Eric Nam asks fans for music recommendations
Eric Nam is an international singer and popular K-pop music lover.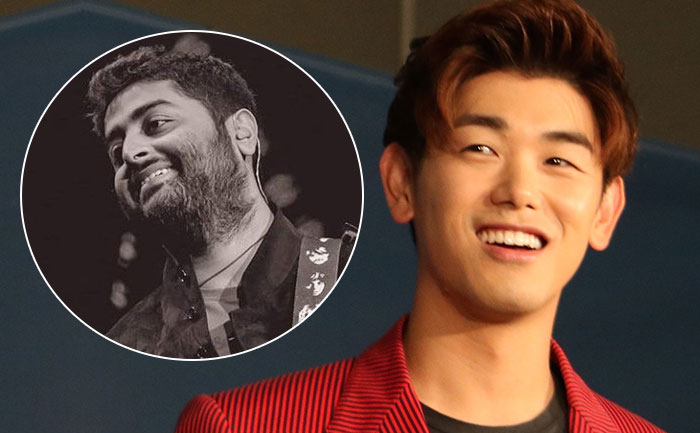 Arijit Singh is regarded as one of the finest singers of India right now. He mainly sings in Bengali and Hindi films but he has also lent his husky voice to other regional languages. Apart from singing songs, Arijit has also proved his mettle as a composer, music producer, music programmer and recordist.
On March 17, 2020, Arijit Singh was trending on Twitter and the reason behind it was not his new single or an interview. Yes, Arijit Singh was trending on Twitter becuase of a popular K-pop singer Eric Nam reached out to his over 1 million followers asking for their favourite Indian music singer and performers.
aight i need some tips from #NamNation in #India – who are some of your favorite Indian singers and performers.

— 에릭남 (Eric Nam) (@ericnamofficial) March 17, 2020
Eric Nam is an international singer and popular K-pop music lover. He has sung plenty of tracks including Congratulations, Love Die Young and Cave Me In. Eric Nam's tweet seeking for some music recommendations in India comes days after the US-based brand music band called 'Bluegrass Journeymen' expressed their wish to team up with India's no 1 singing sensation, Arijit Singh.
As soon as Eric put a Tweet, he received thousands of responses. Many musicians including AR Rahman, Benny Dayan, Armaan Malik, Amit Trivedi among others were suggested to Eric. However, a majority of them had a common name, Arijit Singh.
Many fans of Arijit Singh took to their account to recommend him to Eric Nam with many even sharing the Youtube links in their tweets.
Check out a few responses from Arijit Singh's fans:
Arijit Singh ❤?????
He is one of the great singers of all time in India…… pic.twitter.com/K5xzNA9ITx

— Dipanjan Saha (@Dipanja05959254) March 17, 2020
ARIJIT SINGH. Here I can be sure.

— Nasteaom⁷ (@nasteaom) March 17, 2020
Even though I'm Europian I think Arijit Singh it's a great singer, I often hear his song fro Bollywood movies. I think you would like his songs

— dori. (@dori_jin) March 17, 2020
The queen SHREYA GHOSHAL undoubtedly ♥️

— Shivom Chakraborty #TeamShreya (@ShivomChakrabo6) March 17, 2020
Arijit Singh is the current sensation of today's youth and he has just made all of us mesmerized with his voice and songs. One Song after another is hitting the chartbusters and everyone's humming only his songs.