ARMY's compare BTS V's Hairstyle to Priyanka Chopra's Met Gala Look 
After releasing the Butter song, BTS members flaunted their new looks during the virtual press conference. V unleashed his fluffy new hairstyle and ARMY's just can't stop talking about it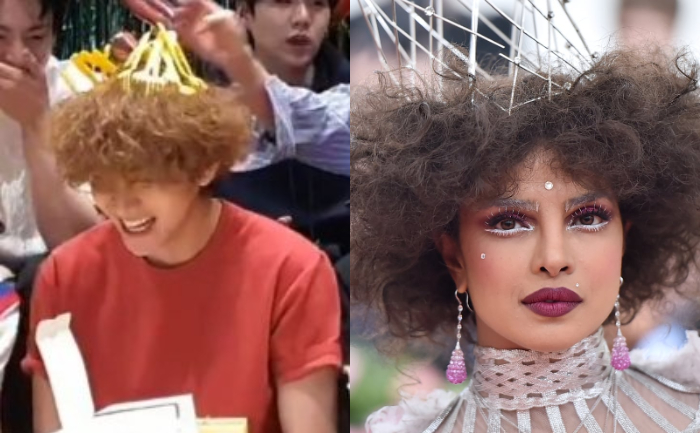 Kpop group, BTS treated their fans with the much-awaited song-Butter on Friday. The band is breaking many records with the song already. During the group's virtual press conference, the Bangtan Boys flaunted their new looks and so did V. His fluffy hairstyle caught momentum during the conversation. Fans compare Kim Taehyung's hairstyle to that of Priyanka Chopra's from her Met Gala look.
BTS often end up making headlines over their new hairstyles. During the live conversation with ARMY, BTS members made sure to talk about V's new hairstyle. RM informed V that his hair looks like a bird's nest. Jungkook says it looks like Bob Ahjussi's hairstyle (Bob Ros). Suga on the other side says it's so far the cutest hairstyle Taehyung pulled out, reacting to this RM again says he looks like Dustin from Stranger Things. During the fun conversation, Jungkook was seen playing with V's hairstyle and he decorates his hair with forks which making it look like a crown. ARMY's just can't stop themselves comparing the look with Priyanka Chopra's MET Gala look.
Check out few hilarious reactions on V's new hairstyle:
🐨: Taehyung your hair looks like a bird nest it's so cute. Jungkook Oppa if you go on diet you look too thin. Taehyung Oppa you look like Bob Ahjussi.
🐱: Ah it's Bob Ahjussi hair now we see it. Bob Ahjussi
🐹: it's so easy right? (Copying Bob Ross)pic.twitter.com/X3cGjqZrH4

— haru⁷🌿💜(🧈) (@BOMHARU1230) May 21, 2021
having a bad day? here's jungkook playing with taehyung's hair 🙁 pic.twitter.com/x56nB5Qphx

— ayie⁷ (@jeonsissy) May 21, 2021
Looks similar?? 😂😂😂

But whatever V looks cutee!!#BTS_Butter #BTS #BTSBackWithButter #ButterToday #Butter #KimTaehyung #KimSeokjin #KimNamJoon #SUGA #JHOPE #JUNGKOOK #JIMIN pic.twitter.com/eVIfjZAxoW

— That mascara girl (@MascaraThat) May 21, 2021
IDK why but Taehyung's hairstyle here reminded me of Priyanka's this look.

P.S: Our taetae looks so cute!😭💜 pic.twitter.com/lwuxJ9OrHV

— Manalkareem (@Manalkareem4) May 21, 2021
It reminded me of this actually 🤣 pic.twitter.com/8df3a8b6CJ

— AKSHATA (@Ebullience89) May 21, 2021
taehyung's hairstyle (with the forks) looks like priyanka Chopra's from 2019 met gala 😭😭 pic.twitter.com/9fvsHBaryd

— Dashi Run Run⁷🧈 (@iluvemyfingersz) May 21, 2021
This fandom will find anything 😂😂😂
Taehyung x Priyanka Chopra
Both of them pulled off the look wonderfully in their own way. Love them both. 💜💜 https://t.co/kNrxBGxE0R

— Fleur Lune 💛 (@fleurlune24) May 21, 2021
For more such updates, stay hooked on to The Live Mirror.
Also Read:  Butter Highlights: Jungkook's Kiss For ARMY To V's Never-Ending Saga Of Playing With Glasses