Butter Highlights: Jungkook's kiss for ARMY to V's never ending saga of playing with glasses
The official music video for BTS's Butter song has been unleashed today. Here are the heart-melting highlights from the song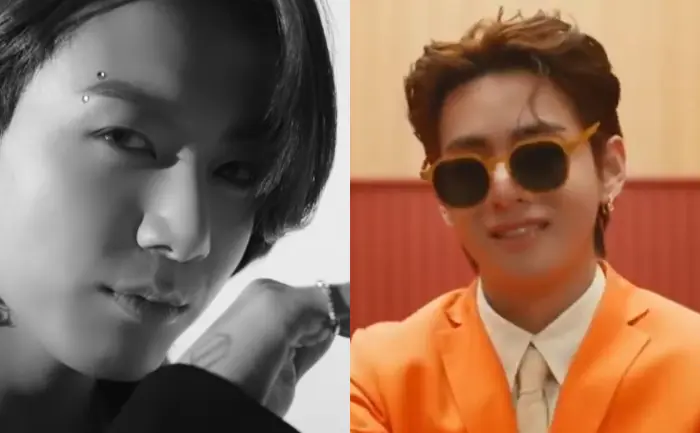 Kpop band, BTS has officially released its much-awaited Butter song. This colorful track is perfect to shell out summer vibes and it is sure to melt ARMY's heart. Just like the Dynamite song, this one is set in a colorful backdrop and features the septet in a more stylish way. This one marks Bangtan Boy's second complete English track. There are several moments in the Butter song worthy to rewatch, as they have a special meaning. From Jungkook's kiss for the ARMY tattoo to V's iconic play with glasses, here take a look at the unmissable highlights.
Rewatch these highlights from the Butter song:
How it started in 2013 and how it's going in 2021. BTS mentioned the ARMY's with a special gesture in the song.
HOW IT STARTED HOW IT'S GOING
2013 2021@BTS_twt #BTS_Butter pic.twitter.com/BWOomsKAO8

— 🧈Lulu ⁷ᴺᵒ¹ ⟭⟬ BTS ⟬⟭ connected to 7G since ²⁰¹³ (@lsgrlr) May 21, 2021
'GOT ARMY RIGHT BEHIND US WHEN WE SAY SO'
PLS THEY LITERALLY INCLUDED OUR NAME IN BOTH THE LYRICS AND THE MV OF THE SONG OF THE YEAR pic.twitter.com/7JqH0KSnfQ

— kitty⁷🧈 (@Jins_Epiphanyy) May 21, 2021
Jungkook has an ARMY initials tattoo on four of his right-hand fingers. Him kissing his hands is a sweet gesture of kissing the ARMY's.
The way he kissed his ARMY tattoo !!

IM SCREAMING 😵🔥🔥🔥#JUNGKOOK #JK #BTS_Butter #BTSBackWithButter #GETITLETITROLL #BTS #BTSARMY @BTS_twt pic.twitter.com/l8JdhEeqsV

— BTS_UPDATES⁷ 🧈💛 (@BTSupdate_7) May 21, 2021
Some things are never meant to change. Remember the way Tae-Tae made heads turn with his over-enthusiastic dance moves at an event? They have actually used it in the Butter song. We wonder if the director has asked V to open up a bit and be his natural self while dancing.
THIS LITERALLY MADE ME TEAR UP 2017 ARMYS HOW WE FEELING 😭😭 #BTS_Butter #ButterToday pic.twitter.com/6S459CpKNh

— 🧈⁷ (@voguekoo) May 21, 2021
This has to be ARMY's favorite. V reminisces the Dynamite era with his never-ending saga of playing with the sunglasses.
TAEHYUNG AND HIS SUNGLASSES AND GOOFY SMILE IN DYNAMITE VS. BUTTER 😂 OH MY GOD PLEASE HE'S THE CUTEST #BTS_Butter pic.twitter.com/rHhzzTKWpR

— HOT MESS JK EXPRESS⁷ (@xkookiekate) May 21, 2021
Jungkook's eye-brow piercing is real.
I'm bursting because Jungkook's eyebrow piercing is real and he's getting more comfortable with his self expression. I'm here for it 😩#BTS_Butter pic.twitter.com/Mj4n2m0LRz

— D✍🏻 ⟭⟬⁷ (@epiphanyxstylxs) May 21, 2021
Did you like the Butter song? Do let us know.
For more such updates, stay hooked on to The Live Mirror.
Also Read: Butter Song Out: BTS Is Back With A Smooth And Colorful Track