Happy Mother's Day: 7 Tweets About ARMY's Moms Fangirling Over BTS's RM
Mother Day 2020: ARMY's mothers fangirling over BTS's RM is a perfect tribute to mom's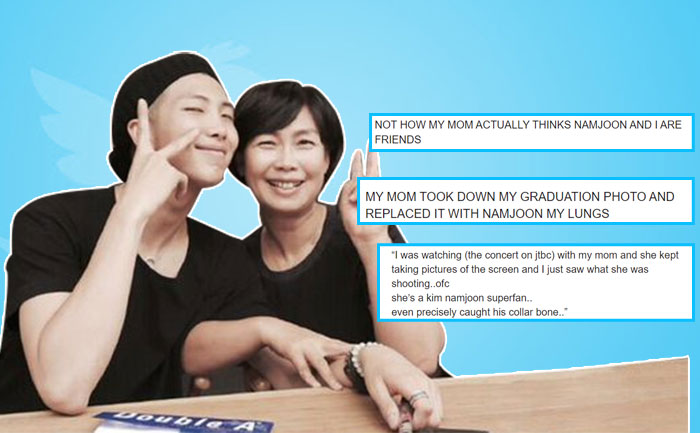 Korean Pop Group BTS is one of the most followed K-Pop groups across the world. The Bangtan boys are each loved for their specific quality be it Jin, Suga, J-Hope, Jimin, V, or Jungkook. But RM is loved for his maturity, responsibility, and confident personality. He is a self-confessed Mama's boy, who loves to post his cute pictures with his mother on the group's official Twitter account.
엄마, 나 pic.twitter.com/h6PB65cNbS

— 방탄소년단 (@BTS_twt) September 5, 2015
Maybe that is one of the reasons that ARMY's Moms are fangirling over him.
Here are 7 tweets that prove most ARMY's moms feel naturally drawn to RM:
1. Mom replaces graduation pic with RM's:
MY MOM TOOK DOWN MY GRADUATION PHOTO AND REPLACED IT WITH NAMJOON MY LUNGS pic.twitter.com/6Nys3BJOYF

— S⁷🖤 (@jiminisii) February 27, 2020
2. When a Mom has put RM pic in the living room:
I visit my parents after a few months to find my mom… has put up a framed photo of Namjoon in our living room? pic.twitter.com/v9GEZW0bnJ

— Amy Wong (@amyewong) November 15, 2019
3. Brings a smile to your mom's face:
my mom asked me to show her some of my concert videos and when i got to their day two goodbyes she laughed for legit 5 whole minutes at namjoon not knowing what day it was pic.twitter.com/FKmSndr9YK

— ★☆★ lizzy ↺ #RIDIN (@hwngxx) May 17, 2019
4. Her favorite:
i finally showed my mom the boy with luv video and 1) right when taehyung came out in the beginning she was like "THATS CHRYSTALS BOY" 2) right when jimin came out "THATS JAZMINS BOY" 3) when hoseok and namjoon came out she was like "ayyyy mi favoritos" KDHDK ITS A WIN FOR MY MOM

— chrys☼tae⁷ (@chaiitae) April 14, 2019
5. Her real husband:
my mom is throwing a birthday party for herself right now and she's already drunk and now she is showing namjoon's picture to her friends and telling them he is her real husband EYE- SOMEONE STOP HER PLEASE

— ysa ⁷ (@RlDEJlMlN) January 19, 2019
6. President RM:
My mom looked sad and I asked her why and she just answered "why can't namjoon be the president of our country" njdjjsnkskdmfkmkns

— sara🌱 (@tdetae) September 25, 2018
7. RM is watching you:
just got home from school and look at what my mom wrote in our fridge jsjajha language below is filipino (trans. please child eat well, namjoon is watching) now i really gotta eat well 😭💘 pic.twitter.com/qvqdf5MfTT

— 📌 read pinned tweet (@talesofjoonie) December 18, 2018
Also Read: 11 Times BTS Stole The ARMYs' Heart With Their Display of Cuteness